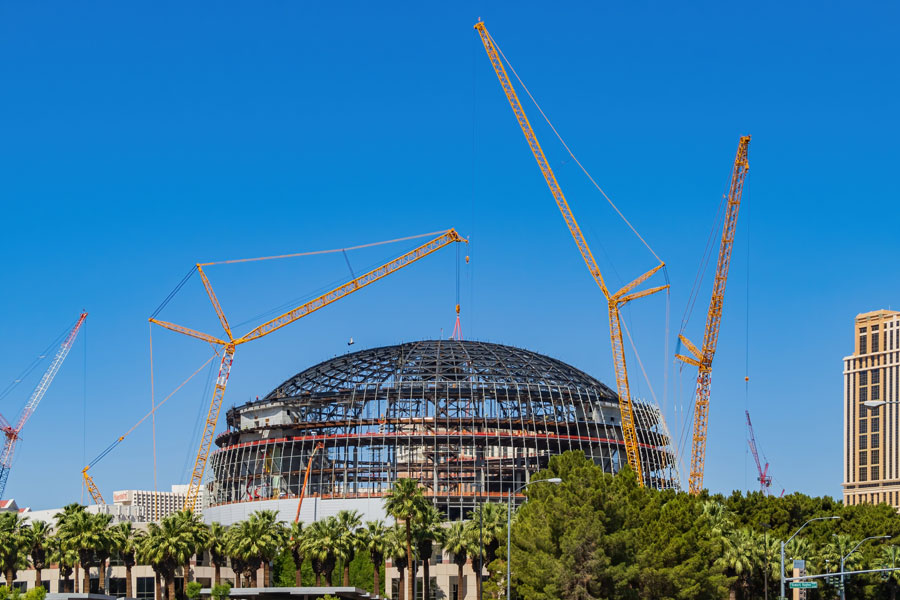 'Largest Spherical Structure On Earth' Hits Major Construction Milestone as Workers Top Off Venue
LAS VEGAS, NV – One of Las Vegas' most unique and eye-catching entertainment venues hit a major milestone in its construction this week, as construction crews working on the MSG Sphere topped off its steel exosphere on Tuesday, placing it one step closer to meeting its 2023 opening date.
Over 1,400 members of the construction crew held a celebration of the venue's progress – which has been in development since 2016 – by signing a steel beam that was then affixed to the top of the sphere, which represented the "completion of primary structural work on the project," according to developer MSG Entertainment.
When completed, the MSG Sphere will be a 400,000-square-foot, 18,000-seat, 366-foot-tall, 516 foot wide, globe-shaped arena – the largest spherical structure on Earth, according to the company – located on 63 acres of property located behind the Venetian Resort Hotel Casino on the Las Vegas Strip.
The exterior of the sphere will feature 36 miles of variable intensity LED lighting – the aforementioned exosphere – enabling the structure to allow outside spectators to peer through a transparent facade to watch the concert within; at higher lighting intensities, outside vision will be obscured.
The attendee capacity of the MSG Sphere will be scalable, MSG Entertainment said, ranging from approximately 17,500 seated to 20,000 with a mix of seated and standing. The venue will typically not feature sporting events, but rather cater to musical performances and concerts; however, the occasional boxing or MMA contest could be held there if needed.
MSG Entertainment, though a wholly-owned subsidiary, has been handling the "strategic planning and the construction timeline, as well as management of all subcontractors," with the previous construction manager, an engineering firm called AECOM, serving the project in a supporting role.
Originally slated to be opened in 2020, the project had fallen behind scheduling estimates, but is now on-track for its revised 2023 opening date.
Shelter Realty is a Real Estate and Property Management Company specializing in the areas of Henderson, Las Vegas and North Las Vegas, NV. Feel free to give us a call at 702.376.7379 so we can answer any questions you may have.