Southern Highlands Community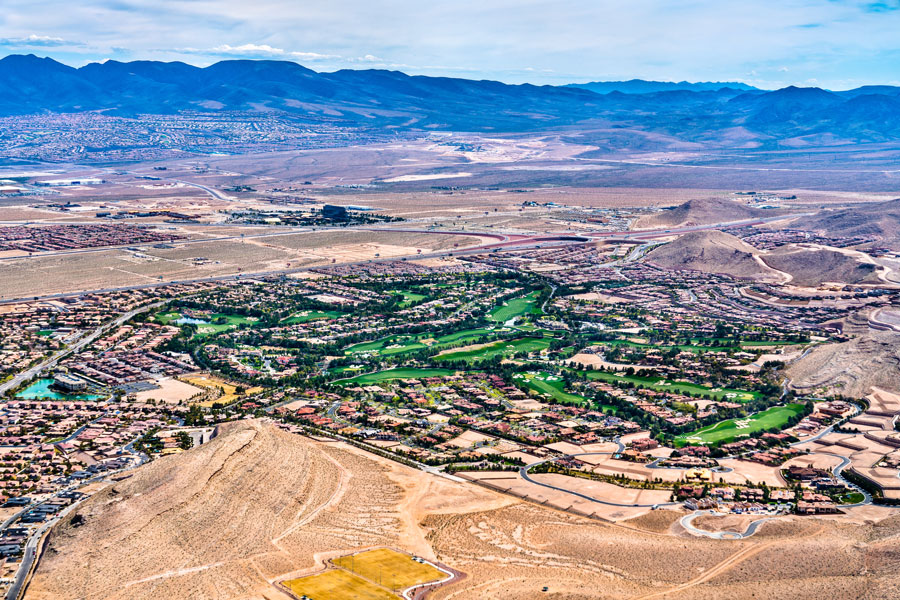 Southern Highlands is an affluent, 2,700 acre master planned community in the southern foothills of Southern Nevada, overlooking the Las Vegas strip. The population of Southern Highlands is approximately 10,446, and the average household income is $100,207, although the pricier areas of the community are home to individuals who earn far more.
Housing in Southern Highlands is divided between two very distinct neighborhoods; the northern region of the community features family-based neighborhoods with entry level condos and homes set upon tree-lined streets, whereas the southern region features a more upscale setting – the Southern Highlands Golf Club, also known as The Estates – which offers far more secluded, luxury-based homes set on the grounds of a private golf course that are typically semi-custom made for residents by developer Christopher Homes, a well-known local Nevada luxury builder.
Southern Highlands has many aspects that would appeal greatly to lovers of the great outdoors, such as six large parks with covered play areas, gazebos, water features and walking paths, tennis and basketball courts, and the Paseo hiking and biking trail that weaves through the community. In addition, two dog parks cater to pet lovers.
While located only 15 minutes from the world-renowned shopping and dining on the Las Vegas Strip, Southern Highlands nonetheless has a plethora of dining and shopping options for local residents to partake in, with two retail centers accompanied many stores, restaurants, and services located within a short walk or drive. In addition, children are able to attend to their education within the Clark County school system, with access to Evelyn Stuckey Elementary School, Tarkanian Middle School, and Desert Oasis High School, all of which are renowned for their strong curriculum and expertise in preparing young students for a full and productive life. In addition, access to private schools is also an option for residents.
Southern Highlands is also protected by its very own a fire station, and many residents enjoy the sense of family the region has among residents, fostered by a Community Association that is responsible for a host of entertaining events throughout the year, as well as enforcement of neighborhood standards. Monthly assessments fund the maintenance and upkeep of the parks and landscaped common areas, as well as the 24-hour roving security patrol.
The Tuscan-inspired architecture of the Southern Highlands Golf Club boasts numerous amenities for residents of The Estate, including a 13,000 square-foot spa with private treatment rooms, Jacuzzi, steam room, more. There is also a 4,000-square-foot exercise facility, four lighted tennis courts, an adult swimming pool that includes a lap pool, an outdoor Jacuzzi, private cabanas, and a children's play pool. Meanwhile, homes in The Estate are surrounded by breathtaking views ranging from thick trees and crystal-clear lakes that change based on the elevation of the terrain of the golf course, which is ranked among the very best in the United States.
If you are considering relocating in or around the Southern Highlands community, our company would be delighted to help you find your way or pick the best place to settle in or find your dream home. Please give us a call at 702.376.7379 so we can answer any questions you may have.
---