Spanish Trail Community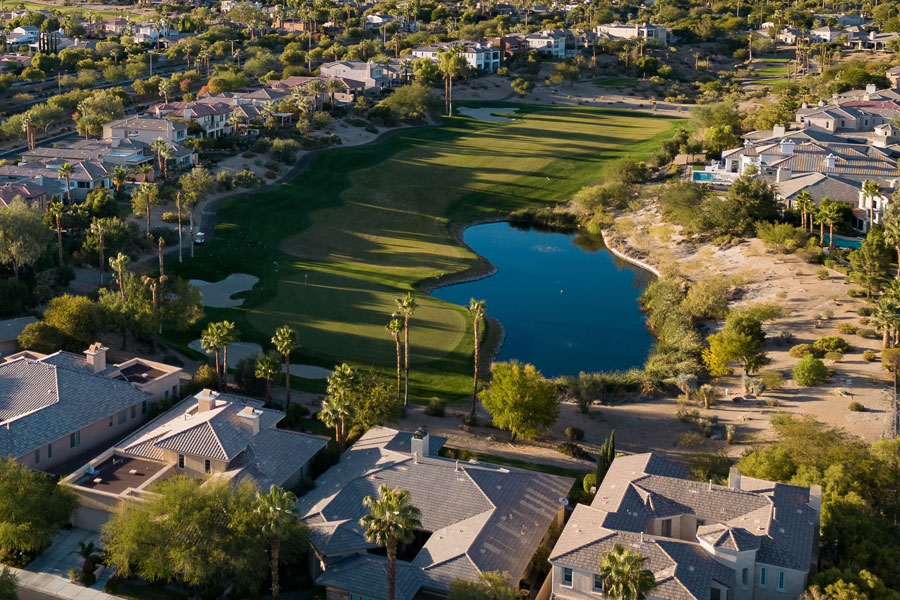 Spanish Trail is an affluent, master-planned, guard-gated community originally developed in the 1980's and located in southwestern Las Vegas, Nevada. The community is comprised of 11 different neighborhoods encompassing a total of 640 acres, and features over 1,200 single and multi-family homes ranging in size from 1,157 to 16,649 square feet.
Most property lots in Spanish Trail are approximately a half-acre in size, but there are variations on lot sizes that exceed that for buyers looking for larger properties. Prices of homes in the community can fit a wide range of budgets; there are town-homes that begin in the neighborhood of $300,000 all the way up to large luxury homes that begin at $1,000,000 or more. The elevation at Spanish Trails ranges from 2,313 ft. to 2,504 ft. above sea level. Most locations within Spanish Trail offer beautiful, unobstructed views of the surrounding area, including desert landscapes featuring expansive mountain ranges as well as the very well-known Spanish Trail golf course that the community is famously built around.
The aforementioned private golf course is the very centerpiece of the Spanish Trails community; designed by Robert Trent Jones Jr. and featuring 27 holes, 15 lakes, waterfalls, streams, and over 120 bunkers, the course is one of the most well-regarded in the continental United States by professional and amateur golfers alike. The golf course is situated within the exclusive members-only Spanish Trail Country Club, and paying members gain access to a host of luxurious amenities such as the golf course, a fully-equipped gymnasium, tennis courts, as well as several pools and spas. While the Country Club is for dues-paying members-only – memberships run under $30,000, with social memberships for approximately $3-4,000 – there are several neighborhoods within the Spanish Trail grounds that do possess their own private pools and spas for their respective inhabitants.
Spanish Trail is situated about a 15 minute drive from the Las Vegas strip, and is very close to neighboring towns of Tropicana and Rainbow. Spanish Trail offers an exclusive "country club" lifestyle and many of the one and two-story homes have a timeless look, often with vaulted ceilings in the living area, and open floor plans. In addition, outside each home residents can enjoy beautiful ponds and green landscaping – in addition to picturesque views of the Country Club and its golf course – that make this peaceful community worth a visit.
Given the prestigious reputation of living in a local such as Spanish Trail, many residents consider the high cost of owning a property within its boundaries to be worth the price of admission, so to speak.
If you are considering relocating in or around the Spanish Trail community, our company would be delighted to help you find your way or pick the best place to settle in or find your dream home. Please give us a call at 702.376.7379 so we can answer any questions you may have.
---