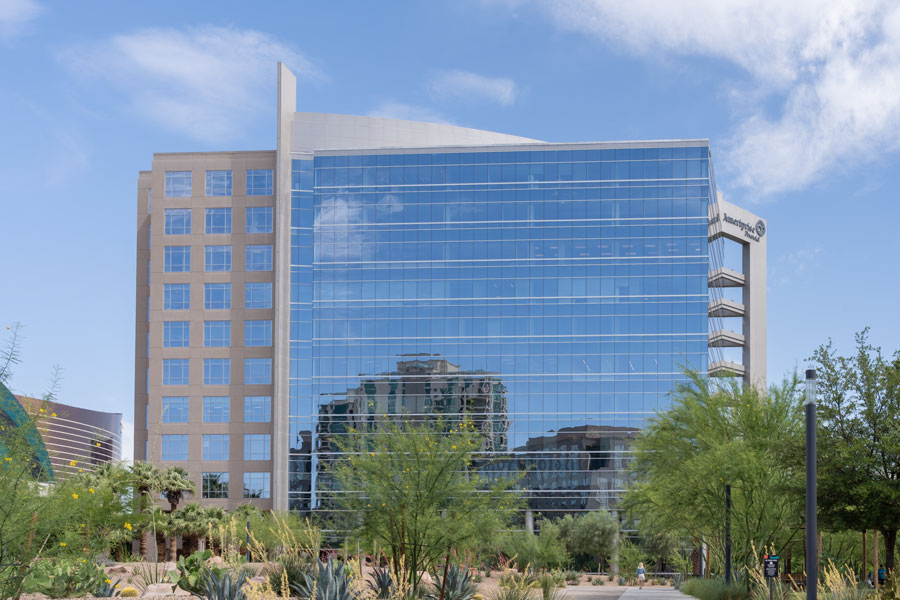 LAS VEGAS, NV – Howard Hughes Holdings is set to open a huge new office project in the southwest Las Vegas Valley in 2024, and while no tenants have been announced yet, experts expect that the property will fill up quickly once construction is complete due to high demand in the area.
The Meridian campus – slated to open this upcoming January and located near the 215 Beltway on Town Center Drive – will encompass 147,000 square feet, spread out amongst two three-story office buildings that will be linked by a centralized lobby.
Cushman & Wakefield will be handling leasing duties for Meridian, and according to the company's senior director, Charles Van Geel, a flood of tenants are expected to vie for space at the facility because it is situated in a very desirable location.
You can't help but notice the attractive mountain views in one direction, the cityscape in the other direction yet you're still in the renowned Summerlin community that has green spaces, great schools seamlessly connected with the valley's transit infrastructure," Van Geel said. 
Following the transition to remote work during COVID-19, many employers are attempting to woo workers back to the office now that the pandemic is in the rearview mirror; Amy Lance, a director for Cushman & Wakefield, said that Meridian will make a very enticing carrot on a stick for employers to dangle due to its proximity to the 215 Beltway, ensuring an easy commute
We're really hearing from companies who want their employees back," she said. "I mean they may give them the option to work from home one to two days a week, but I think that's going to change in the future." 
Demand for office space in the southwest valley is among the highest in Southern Nevada, with the average rent per square foot coming in at $31.09; in contrast, average rent per square foot in the city of Las Vegas itself is $26.96.  
Shelter Realty is a Real Estate and Property Management Company specializing in the areas of Henderson, Las Vegas and North Las Vegas, NV. Feel free to give us a call at 702.376.7379 so we can answer any questions you may have.