Summerlin Community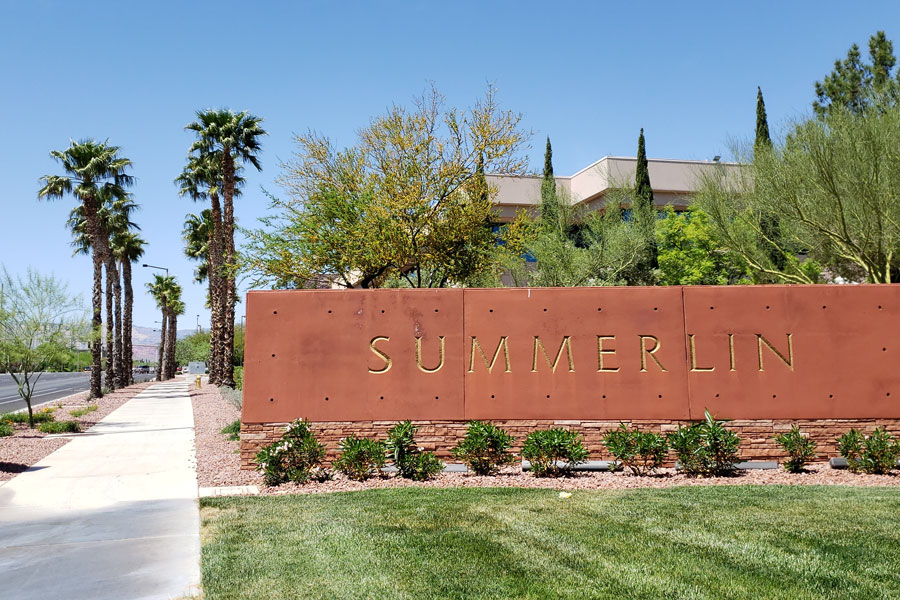 Summerlin, Nevada is a wealthy master-planned community in the Las Vegas Valley of Nevada, located near the Spring Mountains and Red Rock Canyon. It is part of Clark County, takes up approximately 22,500 acres of land, and boasts a current population of nearly 100,000 residents. The community is named after Jean Amelia Summerlin, the mother of famous American businessman and inventor Howard R. Hughes Sr., who bought the community's initial 25,000 acres – which he originally named "Husite" – in 1952. Years later, after Hughes Sr.'s passing, his heirs felt the unoccupied land would serve well as a planned community, and began purchasing neighboring lands over the years to that end.
Summerlin has experienced a rapid degree of growth in the 2000's; it's current populace of 100,000 represents a significant increase from 59,000 in 2000, which many attribute to a successful economy brought about by its rich, multi-use property attributes, covering residential, commercial, recreational, educational, medical, open space, and cultural. Summerlin has over 150 neighborhood and village parks, as well as the Summerlin Trail System, a 150-mile series of scenic hiking trails that continues to be expanded as time goes on; the final plan called for the trail to be 200 miles long and connect to more than 2,000 miles of regional trails.
In addition, Summerlin has nine golf courses, over a dozen houses of worship, numerous shopping centers, medical and cultural facilities, business parks and 26 public and private schools. The majority of major public roadways feature bicycle lanes, and given the fact that Summerlin is located at the very opening of the Red Rock Canyon National Conservation Area, many cyclists are attracted to the region.
Situated within the Mojave Desert, Summerlin has a typically very hot climate, but one that is nonetheless cooler than elsewhere in Las Vegas due to its high, 3,000+ foot elevation compared to elsewhere in the region, with comparatively low dew points and humidity throughout the year. Winters yield an average area temperature of approximately 60 degrees, with little-to-no snowfall; spring averages 60 to 80 degrees, depending on the month, and summers can exceed 100 degrees during the July and August months.
Summerlin is a wealthy community, with the household income of the average resident coming in at well over $100,000, making it one of the richest areas within all of Nevada. As a result of its many amenities and the affluent lifestyle of many of its residents, Summerlin was voted by Money Magazine in 2014 as one of the "Best Places to Live in America."
The Summerlin community finds itself within a small patchwork of different governing bodies due to its location; the northern region is within the city of Las Vegas, whereas the south is part of Clark County. In addition, three major master associations – Summerlin North, South and West – manage their respective areas as well, given Summerlin's status as a master-planned community. From there, Summerlin is divided up into a series of villages – 19 of 31 total villages are complete or are under development – with each being a separate municipality.
If you are considering relocating in or around the Summerlin community, our company would be delighted to help you find your way or pick the best place to settle in or find your dream home. Please give us a call at 702.376.7379 so we can answer any questions you may have.
---