Lake Las Vegas, Nevada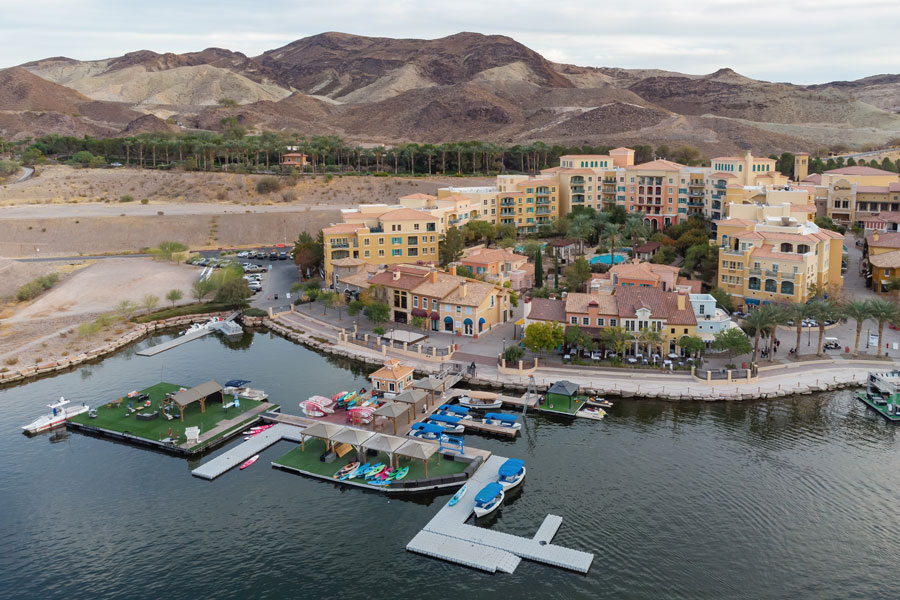 Located in Henderson, Nevada, Lake Las Vegas is a 3,592-acre developed area built around a 320-acre man-made lake; owing to several resorts located within its boundaries – including the Aston MonteLago Village Resort, the Westin Lake Las Vegas Resort, and the Hilton Lake Las Vegas – the area is sometimes referred to as the Lake Las Vegas Resort.
Currently, the population of Lake Las Vegas comes in at approximately 20,678 within 7,934 households. Home prices vary from lows of $135,000 for a studio condominium to highs of $1,400,000 or more for a four bedroom, five bathroom, fully furnished lakeside home. Average temperatures in the region range from highs of 104 degrees in July to lows of 36 degrees in January.
The development of Lake Las Vegas is fraught with a series of financial issues for a number of years, with more than one developer engaging in lawsuits and/or declaring bankruptcy before it was completed. The project was originally conceived of by actor J. Carlton Adair, who purchased the land and water rights back in 1967; after Adar went bankrupt in 1987, Ronald Boeddeker purchased 2,000 acres from the US Government, and the property was later acquired by Transcontinental Properties in 1990, which finally developed the community in 1995 at a cost of $5 billion.
The three billion gallon artificial lake was built over what is known as the Las Vegas Wash – a 12-mile-long channel which feeds most of the Las Vegas Valley's excess water into Lake Mead – which continues to flow under the lake via a series of pipes that require routine maintenance every decade. The dam that is responsible for creating the lake itself is 18 stories high and 716 feet wide at its lowest point, and was completed in 1991. Currently, the lake offers numerous activities, including boat rentals, kayaking and stand-up paddle-boarding, water-propelled jet-packs, and yacht cruises.
The various resorts of the Lake Las Vegas area include the private Lake Las Vegas Sports Club boasts of amenities to promote health and wellness, outdoor activity and leisure recreation, including family and adult pools, fitness center and movement studio, and tennis and pickle-ball courts. In addition, the Reflection Bay Golf Club is ranked among the country's greatest public courses and features a par-72 course, including five holes situated along 1.5 miles of shoreline. Also, Lake Las Vegas features numerous lakeside restaurants, resort hotels, and ample music and entertainment options; MonteLago Village serves as a central hub for the community, and consists of a number of shops, restaurants, and grocery stores.
Outdoor activities are also abundant; Lake Las Vegas has 184 miles of major trails – both paved and unpaved – that lead to miles of scenic views as well as cycling and equestrian trails.
If you are considering relocating in or around the Lake Las Vegas area, our company would be delighted to help you find your way or pick the best place to settle in or find your dream home. Please give us a call at 702.376.7379 so we can answer any questions you may have.
---