Aliante, Nevada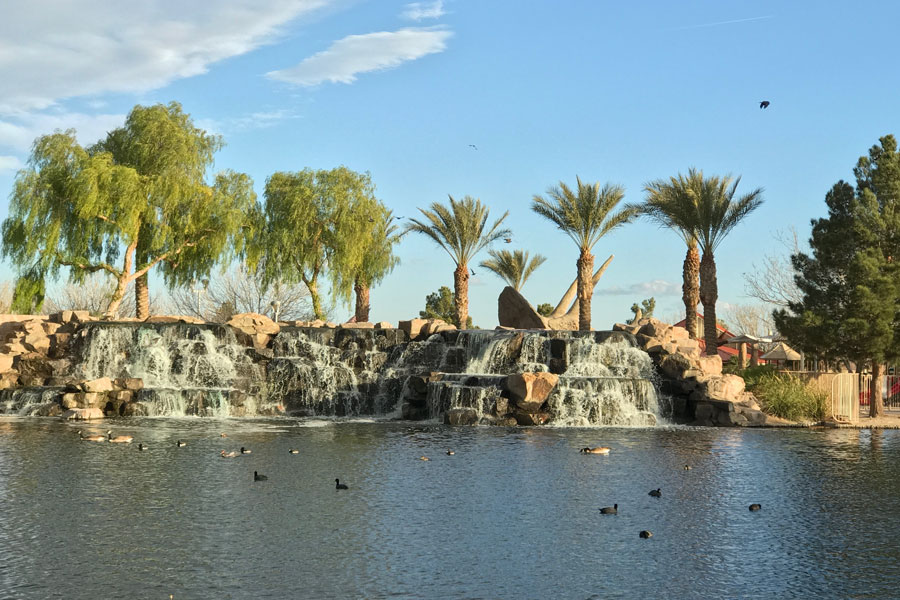 Aliante, located in North Las Vegas, Nevada, is a 1,900 acre master-planned community originally opened in May of 2003 by developer North Valley Enterprises. Aliante has been previously ranked on a list of the top five best-selling master-planned communities in the country.
At the time of it's opening, Aliante was slated to include approximately 7,500 homes and where nearly 20,000 residents would call home; housing units in the community's neighborhoods were priced between $130,000 and $200,000, while some larger homes, starting at 3,000 square feet, would sell for $270,000. While first opening in 2003, it took many more years for the community to be completely built out. Over the years, as prices in the region have dropped and subsequently risen again after the mid-2000's housing bubble burst, prices are now significantly higher, coming in an average of $400,000 to $500,000 or higher.
There are several types of homes for sale in Aliante, from starter homes to large family style homes to retirement bungalows. In addition, there are more upscale luxury homes offered in the Club Aliante area. Floor plans range in size from a modest 1200 square feet to more than 4,000 square feet. Average temperatures in the region range from highs of 104 degrees in July to lows of 36 degrees in January.
North Valley Enterprises, a joint-venture affiliate of Del Webb Corporation and American Nevada Corporation, originally purchased 1,900 acres of city land via auction and began construction of Aliante in 2001; as part of its development agreement with North Las Vegas, North Valley Enterprises was required to set aside 22 percent of its property for public and recreation purposes. Upon completion, the community was replete with amenities for residents, including an extensive trail system, an 18-hole, 6,900-yard golf course, and 45 acres of park land that includes a man-made lake, an amphitheater, soccer fields and tennis and volleyball courts.
The entrance to Aliante is marked by a 40-foot sculpture, accompanied by three lighted 16-foot walls and nine 12-foot waterfalls; the community's logo features two flying birds, meant to convey a tranquil environment based on nature and discovery. The community includes two elementary schools and a middle school built and serviced by the Clark County School District.
More recent attritions to the community include the Aliante Casino and Hotel, a 211-room hotel and 125,000 sq ft casino, opened in 2008; the casino is $662-million project originally conceived of by Station Casinos that has changed ownership hands several times over the years. In addition, there is the Aliante Golf Club, located in Sun City; the Aliante Library, opened in 2006; and the Aliante Nature Discovery Park, which boasts a Dino Dig tot lot and waterfall cave. In addition, located within Aliante is an age-restricted 55-plus community known as Sun City Aliante, distinguished as being one of the best-selling age-restricted communities in the Las Vegas Valley.
Businesses have also taken root in Aliante; the community's first commercial office building was completed and opened in the second quarter of 2005, and in the same year it's first shopping center opened as well, which included a Smith's grocery store as an anchor; business development has only progressed since then. Over 100 acres have been dedicated to business and commercial-related development.
If you are considering relocating in or around the Aliante area, our company would be delighted to help you find your way or pick the best place to settle in or find your dream home. Please give us a call at 702.376.7379 so we can answer any questions you may have.
---