Enterprise Community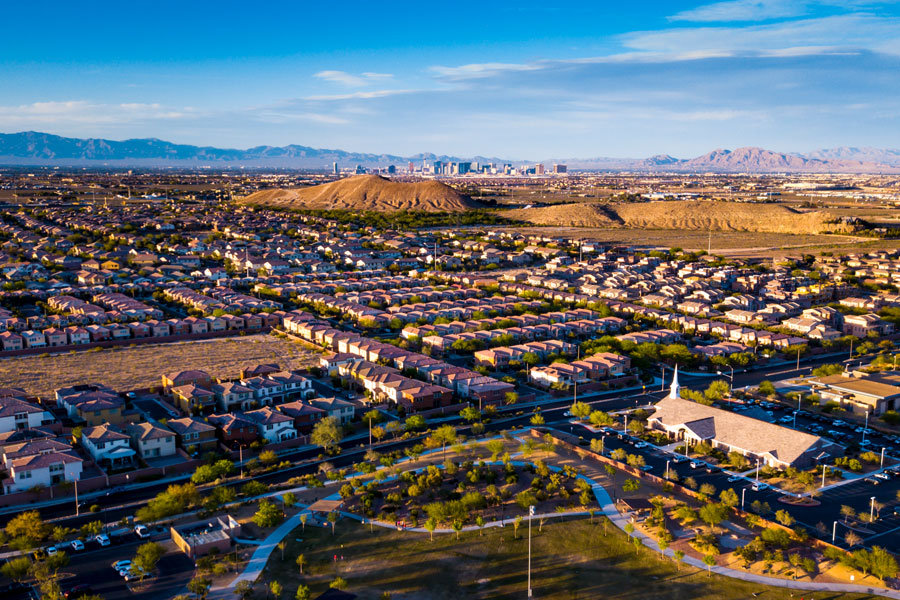 Enterprise is an unincorporated town founded on December 17, 1996 and located in the Las Vegas Valley in Clark County, Nevada. It is known as an up-and-coming township and one of the fastest growing communities in the United States; as of the 2020 U.S. census, the population of Enterprise was 221,831, a significant increase from the 2000 census that placed that number at just 14,676.
Given its degree of rapid growth in recent years – mainly attributed to the development of the 215 Beltway, which connects the Summerlin and Henderson communities and provides easy access to the airport and the Las Vegas Strip – experts say that Enterprise would rank only behind Las Vegas, Henderson and North Las Vegas in terms of the largest cities in the county if it were to incorporate itself today.
Enterprise is a community which is described as having a "dense" suburban feel, with 61 percent of residents owning their homes as opposed to the 39 percent that rent. Overall, there are 185,506 single-family homes and over 29,000 apartment units. In addition, there are many of bars, restaurants, coffee shops, and parks, serving many families and young professionals who call Enterprise home.
Enterprise has a total area of approximately 66 square miles – or 42,600 acres – and is the location of the affluent Rhodes Ranch, Mountain's Edge and Southern Highlands master-planned communities. The city is bordered by Spring Valley to the north, Paradise to the east, Henderson to the southeast, Sloan to the south, and Blue Diamond to the west.
The median home value in Enterprise is $349,800, whereas the median rent comes in at $1,552 per month. The average household income in Enterprise is $69,572 and the average household net worth is $442,021.
Since it is an unincorporated town, Enterprise is part of the Las Vegas Township and is governed by the Clark County Commission, with input from the Enterprise Town Advisory Board. Police services are provided by the Enterprise Area Command of the Las Vegas Metropolitan Police Department.
Public education in Enterprise is courtesy of the Clark County School District, with the schools servicing the city considered to be above average in quality. Enterprise also has two public libraries – Enterprise Library and Windmill Library – both of which are branches of the Las Vegas-Clark County Library District.
Several prominent businesses are set up in Enterprise, with low-cost U.S. carrier Allegiant Air's training center and tech company Switch's headquarters being located in the city. In addition, the Ultimate Fighting Championship (UFC) opened the UFC Performance Institute in Enterprise in 2017, at the time listing the facility as the organization's headquarters.
Enterprise is also a noted destination for those who enjoy numerous exciting activities. Nature lovers can experience the beautiful cacti and wildlife in Slaughterhouse Canyon, and history buffs will enjoy visiting the Mormon Station State Historic Park and its nearby museums. There are also many local art galleries, delicious cuisine from area restaurants, and ample shopping opportunities at Mountain Falls Mall.
Other significant developments in the township consist of a planned high-speed rail Brightline Station that would serve as a direct link to Los Angeles; a potential NBA arena and casino resort; and several high-profile resorts and residential projects that are currently either in the planning or active construction phases.
Some notable residents of Enterprise include professional baseball player Reggie Jackson, professional boxer Floyd Mayweather Jr., and UFC President Dana White.
If you are considering relocating in or around the Seven Hills community, our company would be delighted to help you find your way or pick the best place to settle in or find your dream home. Please give us a call at 702.376.7379 so we can answer any questions you may have.
---