Las Vegas Short Sale Questions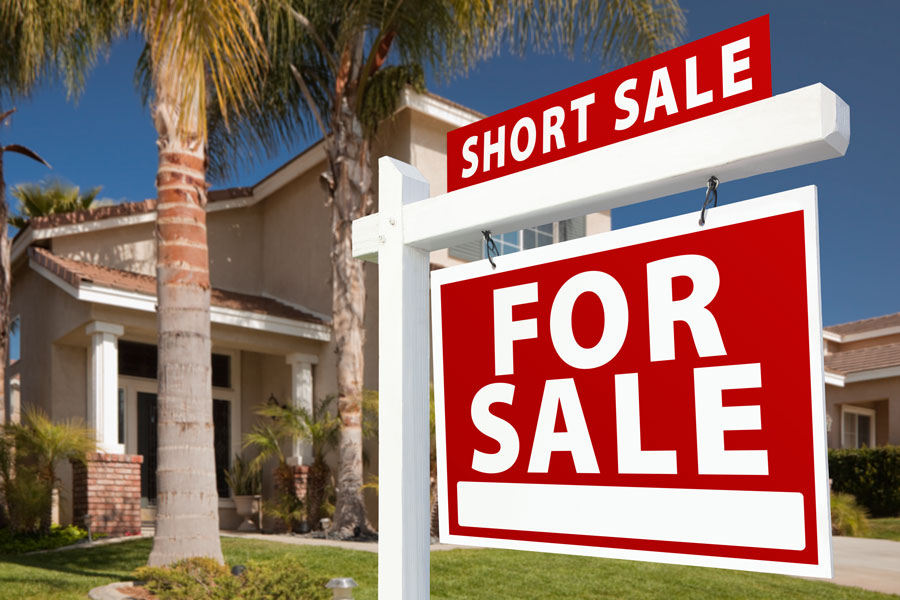 Short Sale, Loan Modification, Foreclosure, Deed-in-Lieu, Deficiency Judgements…
There are so many possible scenarios and options to consider if you are in a position where your mortgage balance is higher than your property's current value, and you need to sell or workout a plan for a more affordable monthly mortgage payment.
As the real estate laws, government regulations and failed housing stimulus plans continue to change on a regular basis, many homeowners are left in a paralyzed state of confusion about what the best course of action to take is.
The following list of Frequently Asked Questions are a few of many that will come up as you search for the right answer that applies to your unique scenario.
Please feel free to contact our Short Sale department today for a personal consultation, or fill out the quick form to the right for an email response.
How much time do I have before I get foreclosed upon once I am in default?
It depends on the individual banks involved, as well as State your property is located.
Here in Nevada, you have three months and twenty days once a Notice of Default (the official filing a lender makes with the County Recorder) has been filed. After this time period, a Trustee Sale is often scheduled within 30 days.
Your bank usually will get your property at the Trustee's Sale. Technically, you are in default one day after you miss a payment, but it usually takes a couple of months before a Notice of Default is filed.
The more time we have as real estate agents, to conduct a short sale, the better chance you have, just make certain you have exhausted other options prior to attempting the short sale
Why should I consider a Short Sale?
If you need to move and cannot sell your property for the amount you own on the mortgage, a Short Sale is an alternative to simply walking away from your mortgage obligation and giving your property back to the lender through foreclosure.
In a Short Sale, the borrower (seller) and mortgage lender(s) negotiate on the terms of selling a property for less than the amount that is owed on the mortgage.
In addition to avoiding potential deficiency judgement, a Short Sale does not have as negative of an impact on credit scores as a foreclosure does.
Should I try other foreclosure prevention options PRIOR to listing my home as a short sale?
A short sale is considered by banks as a foreclosure prevention option.
However, in most instances, a bank would prefer a loan modification or similar loan workout option that didn't involve a sale and major write down on the loan.
Once you start a short sale and try another workout option, the bank will suspend the short sale in favor of the other option, leaving the listing agent, buyers with offers on the property and anyone else involved in a transaction, in a lurch.
It will take at least 30 days to get an answer on a loan mod. By that time, all the data and offers on a short sale will be obsolete.
The bank will request all new paperwork to re-initiate the short sale. Bottom line is you can only do on workout option at a time.
Who else should I speak with before attempting a short sale?
A respected real estate attorney, as well as a Certified Public Accountant, since there are tax ramifications and potential deficiencies that may result from a short sale.
REALTORs cannot give professional advice in these areas.
Do I have to be behind on my payments to do a short sale?
Unfortunately, most banks will require a borrower to be behind on their mortgage payments, or at least show that default is imminent.
While it is beneficial for future borrowing goals to keep up with your mortgage payments, it is obviously easier to prove a hardship if a borrower is behind.
For example, there are mortgage programs that allow for qualifying for a new FHA Mortgage a day out of Short Sale.
Should I continue to pay my mortgage while attempting a short sale?
As a REALTOR, I cannot advise someone not to pay their mortgage. That is up to you. My job is to get the listing under contract, negotiate with your lien holders to approve a short payoff, and get the property successfully closed.
Will banks let anyone who is behind on their mortgage payments do a short sale?
Not necessarily. A bank usually requires a hardship, which include; job loss, pay cuts and underemployment, adjusted mortgage payments, job transfer, an increase of the monthly obligations of the borrower (such as having additional dependents to support).
How would filing bankruptcy affect the ability for me to sell my home on a short sale?
Filing for bankruptcy during your short sale will only delay the sale.
You will need to seek court approval to sell the home. In some cases, it could take 3 or more months to get a court date and may jeopardize the short sale.
How long can I stay in my home once I've decided to do a short sale?
You probably should begin to prepare to leave and not plan on trying to time it perfectly so you can stay right up until foreclosure. For one, most homes are more difficult to sell with owners or tenants present.
They usually limit the showing times, do not keep the property in prime show condition, and frequently intimidate buyers who "feel guilty" about the sellers situation preventing them to focus on the real task of evaluating the home for themselves. Your REALTOR is able to guide you on the State statutes governing foreclosures.
They should also be in contact with your lender and should know when a foreclosure is imminent.
I am going to vacate the property. Do I have to maintain the property?
The best looking homes normally sell the quickest. If you can afford to maintain basic utilities that will generally aid your agent's ability to sell the home.
What is a deficiency?
The deficiency amount is equal to the unpaid mortgage balance less the amount received at foreclosure or the date the short sale closes.
The goal of the short sale negotiations, in addition to the approval, is to obtain a full release from the bank in that they will not pursue a deficiency.
Shelter Realty has been very successfully getting a full release of liability for our sellers.
However, if you have recently refinanced and pulled out equity, you may be vulnerable for a bank to pursue a deficiency judgement.
There is a difference between the debt to purchase or improve a property, and the debt pulled out and simply spent.
The latter form is often treated just like credit card debt and a bank may consider obtaining a judgment for that debt. It is critical you consult an attorney as well as a tax professional familiar with short sales if this situation applies to you.
How long do banks have to pursue me after a short sale if they don't waive the deficiency?
For loans generated after October 1, 2009, banks do not have any recourse rights on occupied primary residences. Other loans that are generated before that date banks have 6 months to initiate a lawsuit against you.
If we have obtained a waiver of deficiency, you'll be fine. On 2nd liens closed as a short sale after June 10, 2011, banks will also only have 6 months to file a lawsuit.
This is a big change from the 6 years they used to have!
Why not just let my home go into foreclosure if I am going to still have potential liabilities?
Several reasons: first, an approved short sale, properly negotiated and reviewed by an attorney, usually means that the debt is satisfied. Banks will generally report that the debt was paid short of what was owed, but it will show as paid.
Second, it is preferable to avoid a foreclosure on your record. Fannie Mae has indicated that it will be possible to obtain a loan from them after two years while a foreclosure is five years.
Your goal is to satisfy your debt obligations even though you are facing a financial hardship. Doing nothing is usually more destructive.
What if the buyer wants me to contribute to their closing costs?::
Your REALTOR will write in the contract that any seller concessions are subject to the approval of the lien holding bank.
If they approve the closing costs, you're set. If the don't approve and more money is needed, you will either have to get the buyer lower their demand for costs or you might want to contribute out of pocket if you can afford it.
Remember, that you will be walking away from a very large debt and if kicking in some money to make the deal happen, you may want to consider it.
How is the REALTOR paid and what are the costs to do a short sale?
REALTORS are paid from the proceeds of the sale by the seller's bank. All costs such as taxes, commissions, escrow fees etc. are taken off the top.
The selling bank will cap the fees. If the sale price is insufficient to cover the fees and still net the bank what it feels the property is worth, it will not approve the sale. Sometimes banks want a seller to contribute money or some other form of consideration (usually in the form of a promissory note).
If you have equity in another property, they may look to have you access that equity if they determine they need more money to approve the sale. You will have to determine on your own whether or not it makes sense. In any event, you will not know what they will require until you are in negotiations with your bank.
What does my REALTOR need to know in order to help me with my short sale?
They will need to know all of the liens against a property. Most important will be the number of banks involved. You should inform your REALTOR if you have been paying your home owner association dues.
Other liens might include property taxes, IRS tax liens, mechanic's liens, child support judgments, SID/LID assessments, sewer, water, trash bills, etc. Avoid unnecessary liens such as inexpensive HOA (home owner association) dues. Keep paying them if possible. In Nevada, HOA's are in a first lien position which means they get paid even before the banks do!
The more liens that are filed against a property, the more difficult it is to successfully close a short sale. A lien holding bank allows only so much of the proceeds of the sale to pay off closing costs, liens etc. If the costs are too high, the bank will tell the REALTOR to find more money.
That may mean, getting a buyer to pay a higher purchase price. If the buyer in this situation is unwilling, the deal will die, which is bad news for the seller.
Other items your REALTOR will need to know.
The names and number of banks on your mortgage; the amount of your monthly payment; how much you owe on the property.
I hear that 2nd mortgages can really disrupt a short sale.
In our current real estate market in Nevada, where homeowners are so far under water, most 2nd mortgage holders have little hope to recover much of the money the lent. We rarely see 2nd mortgage initiate foreclosure proceedings as they will probably receive no money from the foreclosure.
Negotiations are crucial with them in order to have them cooperate, even though they have little financial incentive.
Do I have to include my spouse on all the paperwork if they are not on the loan?
Generally not, unless advised differently by your attorney. In Nevada however, if your spouse is on legal title to the property, they will be included on the listing paperwork.
Can I sign the paperwork myself if there are others on title with me?
No, all persons who are on title must sign listing paperwork here in the State of Nevada.
I have tenants, how does this affect them?
You should be honest with them, and depending on their lease, they may have to move out early to accommodate a buyer who wants to occupy right away or most certainly, if the home is foreclosed.
A lease would have to be honored by the new buyer, but that buyer might simply choose not to move forward with making an offer if there is a tenant. You need a buyer more than you need a tenant, so find an equitable solution!
We can answer your questions directly and privately.
---