Get Mortgage Approval If You Are One Day Out Of A Short Sale
You Can Get Mortgage Approval If You Are One Day Out Of A Las Vegas Short Sale
How long after a short sale before I can qualify for a new home loan?
This is the main question most of our Las Vegas underwater homeowners have that are weighing their options of loan modification, short sale or foreclosure.
And, not being able to plan for future home-ownership can add more anxiety to the equation.
It's frustrating when you struggle to do the right thing and make your mortgage payments on time, and then feel penalized by the system by being denied for new mortgage financing due to a recent short sale that was out of your control.
Obviously, if we're going to turn this slow market around, banks will eventually have to figure out a way of providing special circumstances for qualified borrowers that may have fallen victim to a financial crisis that was largely influenced by mortgage and real estate fraud.
Well, the good news is that according to recent changes in FHA Financing Guidelines as of March, 2011, Las Vegas home buyers who are as little as one day out of a short sale on a previous property may qualify for a new mortgage.
FHA Day Out Of Short Sale Overview:
You can read the official FHA Guidelines, but the following screenshot created by a friend Scott Schang highlights the main points: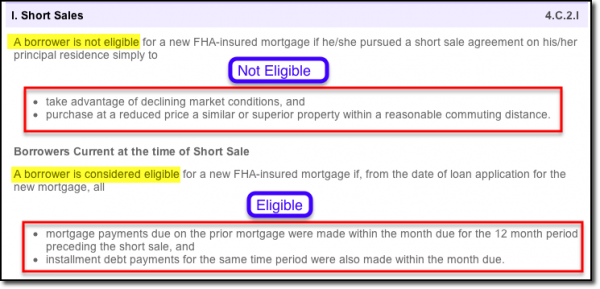 So, what this is basically stating is that unless you did a short sale simply for financial gain, there is a chance you could be eligible for a new FHA mortgage right away.
Examples Of Possible Acceptable Reasons For Short Sale:
Living in previously owned bachelor pad condo – got married, have kids – 1 bed 1 bath doesn't accomodate 3+ person family
Kids move out of home – parents no longer need 4 bed 3 bath home for 2 people
Relocating because of job
Death in the family
Forced sale due to a divorce
Before writing this post, I did a considerable amount of research online, as well as speaking with one of our trusted local loan officers, Brian Maier, to ensure there weren't any hidden challenges our buyers would face if they planned on purchasing a new home immediately after doing a short sale.
Brian said it is important that the borrowers have a clean mortgage payment history for the past 12 months.
This means that there are no 30-day late mortgage payments on your credit report in the past year.
He also stated that each lender has their own qualifying criteria based on standard eligibility guidelines, such as credit, loan-to-value and debt-to-income ratios.
I certainly understand that the words "May Qualify" probably create more uncertainty than hope, but Brian did mention that some lenders were more lenient than others on what they determined "Acceptable" reasons for a short sale.
Either way, the point is that we are moving in the right direction for making mortgage financing available for "make sense" scenarios.
Our Las Vegas Short Sale expert, Paul Rowe, definitely has the knowledge and track record to help answer any of your selling questions.
If you're interested in digging deeper about how to qualify for a new home loan please contact us for more information.