Henderson, Nevada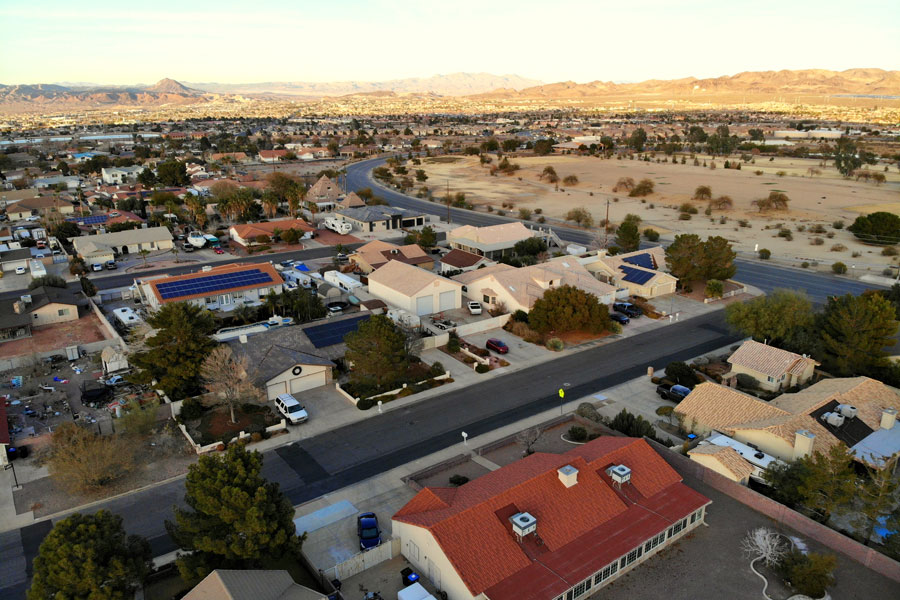 Henderson is a city situated within the confines of Clark County, Nevada, located about 16 miles southeast of Las Vegas. It is the second-largest city in Nevada after Las Vegas, with the population estimated via a 2017 census to be 307,928, residing within approximately 66,331 households. Henderson is located at the southeastern end of the Las Vegas Valley, and makes up a part of the region's metropolitan area at 94 square miles in size.
Henderson originally was founded in the 1940's as a township and quickly distinguished itself as a main supplier of magnesium – a vital component of incendiary munitions, airplane engines, and more – for the United States during World War II. After the war ended, the lack of continued need for magnesium caused hardship for Henderson, but the township eventually recovered with a focus on alternate forms of industry. Later, Henderson was officially incorporated in 1953 as the City of Henderson. In more recent years the city has somewhat veered away from industrial development in favor of increased residential and commercial development.
The median home value in Henderson is $313,800. Henderson home values have gone up 12 percent over the past year and real estate experts predict that they will rise an additional 7 percent within the next year. The median rent price in Henderson is $1,550 per month. Due to its large population, Henderson features numerous amenities and entertainment options for its residents, including an increasing amount of shopping malls, movie theater complexes, concert venues, restaurants and casino resorts. The city is also located within easy driving distance of the famed Las Vegas Strip.
The Oakland Raiders National Football League team announced in February of 2018 that they are moving to Las Vegas for their 2020 season, with construction of a new stadium already underway; in addition, the Raiders will be constructing the team's executive offices and practice facility on a 55 acre plot of land in Henderson, located near Henderson Executive Airport. The city is situated in the Mojave Desert and as a result features mild winters and hot summers; however, snow can occasionally fall in the winter. Henderson has an elevation of approximately 1,330 feet.
Due to its sheer size, Henderson is home to a multitude of residential neighborhoods, including Anthem, Anthem Country Club, Ascaya, Black Mountain Vistas, Cadence, Calico Ridge, Champion Village, The Fountains, Grand Legacy, Green Valley, Green Valley Estates, Green Valley Ranch, Hillsboro Heights, Inspirada, Lake Las Vegas, MacDonald Highlands, MacDonald Ranch, Madeira Canyon, Club at Madeira Canyon, Roma Hills, Seven Hills, Sun City Anthem, Sun City MacDonald Ranch, Tuscany Residential Village, and Whitney Ranch.
As it is located within Clark County, the education needs of Henderson residents are served by the Clark County School District, one of the largest school districts in the United States.
If you are considering relocating in or around the Henderson area, our company would be delighted to help you find your way or pick the best place to settle in or find your dream home. Please give us a call at 702.376.7379 so we can answer any questions you may have.
---