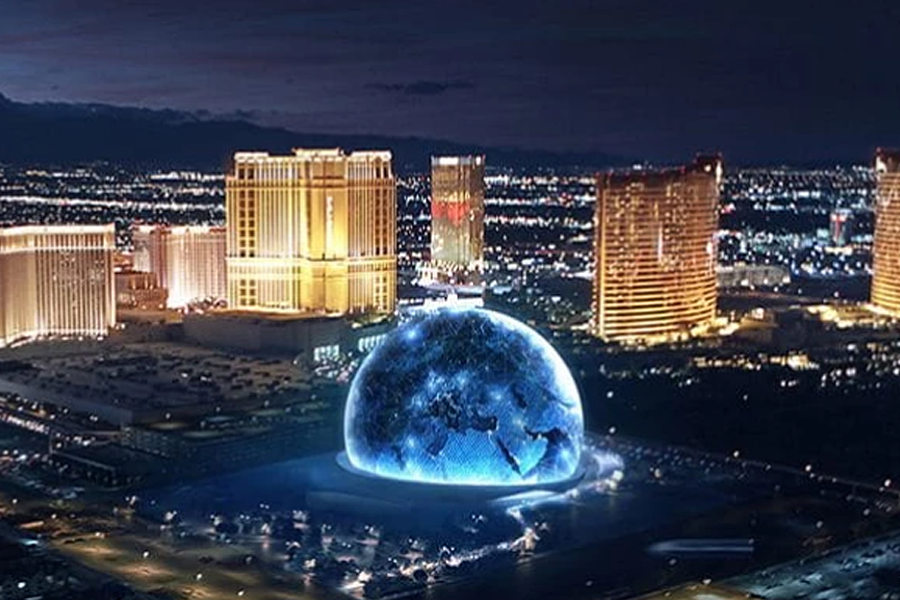 Coronavirus Pandemic Stops Development, Delays Opening of Las Vegas MSG Sphere
LAS VEGAS, NV – The MSG Sphere, a one-of-a-kind entertainment venue originally slated to open in 2021 on the famed Las Vegas Strip, has become the latest victim of the coronavirus pandemic sweeping the nation. According to reports, the pandemic has brought a halt to construction of the MSG Sphere and, as a result its opening has been delayed to a currently undetermined date in the future.
A $1.7 billion, 400,000-square-foot, 18,000-seat, 360-foot-tall globe-shaped arena slated to be constructed on 63 acres of property located behind the Venetian Resort Hotel Casino, the Sphere – a joint venture of the Madison Square Garden Co. and Las Vegas Sands Corp. – is touted as a high-tech entertainment venue that will host musical performances and concerts, as well as potentially the occasional boxing or MMA contest.
Due to the outbreak, developers announced that they are suspending all work on the MSG Sphere, a process that will take approximately two weeks to implement. Issues cited include concerns over worker safety as well as disruptions to construction supplies due to fallout of the worldwide coronavirus pandemic. As a result, the 2021 opening of the Sphere will not be met, reports say.
Once completed, the interior of the Sphere will feature a 180,000-square-foot ceiling with massive video screens for attendees to watch, as well as floor-based bass speaker system to appeal to concert and club-goers on evenings when electronic dance music acts take the MSG Sphere stage, giving the venue a multi-genre and event capability.
But the real draw of the Sphere is the exterior, which will feature 36 miles of variable intensity LED lighting, enabling the structure to allow outside spectators to peer through a transparent facade to watch the concert within; at higher lighting intensities, outside vision will be obscured.
A new projected completion date for the Sphere's construction and opening has not been revealed yet, but MGS representatives have stated that they look forward to "quickly and efficiently resuming construction as soon as practicable."
Las Vegas has allowed construction to continue during the pandemic – as long as workers abide by social distancing guidelines – deeming it as "essential" work; the temporary halt of work on the MSG Sphere project, nonetheless, is the second high-profile project in the city shelved during the pandemic, the second being the former Fontainebleau.
Shelter Realty is a Real Estate and Property Management Company specializing in the areas of Henderson, Las Vegas and North Las Vegas, NV. Feel free to give us a call at 702.376.7379 so we can answer any questions you may have.