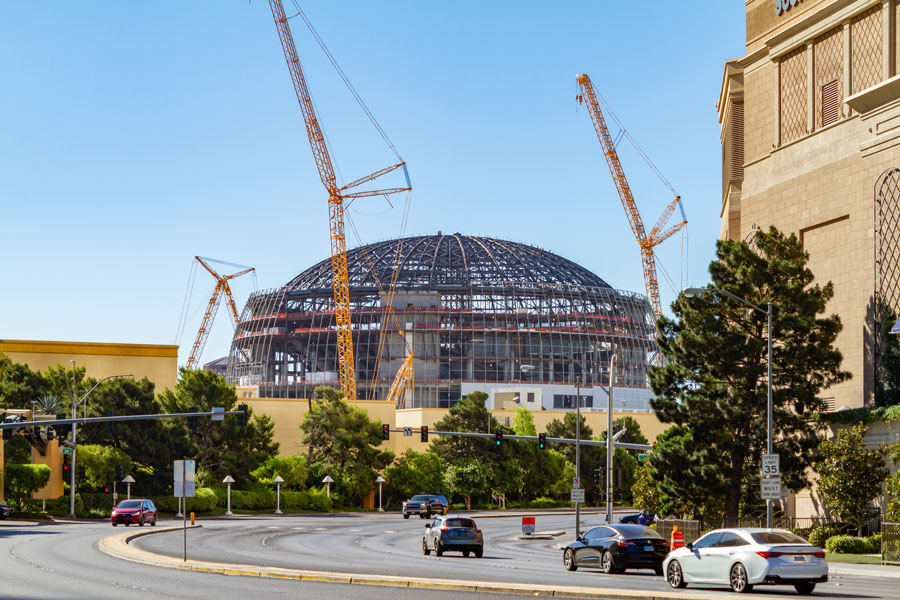 Las Vegas MSG Sphere Reaches Significant Phase of Construction on Way to 2023 Completion Date
LAS VEGAS, NV – The MSG Sphere, the high-tech entertainment venue that has been under construction off of the famed Las Vegas Strip for some time now, has entered a new phase of construction on its way to its anticipated 2023 opening date.
The project has progressed to a point that the steel structure that will support the venue's interior LED display and multi-layered audio system has entered a concentrated point of development, MSG Entertainment said in a press release.
Upon completion of the venue's concrete and steel domed roof late last month, developers on the project have transitioned to a section of the MGS Sphere that will support a hanger system under the dome that will house its significant multimedia presence, according to vice president for construction at MSG Entertainment Nick Tomasino.
"Completing MSG Sphere's domed roof is a significant milestone because it allows us to begin the next phase of construction – building the steel framework to support the advanced audio and visual immersive technologies that will make MSG Sphere a first-of-its-kind entertainment destination," he said.
When completed, the MSG Sphere will be a 400,000-square-foot, 18,000-seat, 360-foot-tall globe-shaped arena slated to be constructed on 63 acres of property located behind the Venetian Resort Hotel Casino on the Las Vegas Strip.
The exterior of the sphere will feature 36 miles of variable intensity LED lighting – the aforementioned exosphere – enabling the structure to allow outside spectators to peer through a transparent facade to watch the concert within; at higher lighting intensities, outside vision will be obscured.
The venue will typically not feature sporting events, but rather cater to musical performances and concerts; however, the occasional boxing or MMA contest could be held there if needed.
Originally slated to be opened in 2020, the project has fallen behind scheduling estimates and is now eying a 2023 opening date.
Shelter Realty is a Real Estate and Property Management Company specializing in the areas of Henderson, Las Vegas and North Las Vegas, NV. Feel free to give us a call at 702.376.7379 so we can answer any questions you may have.