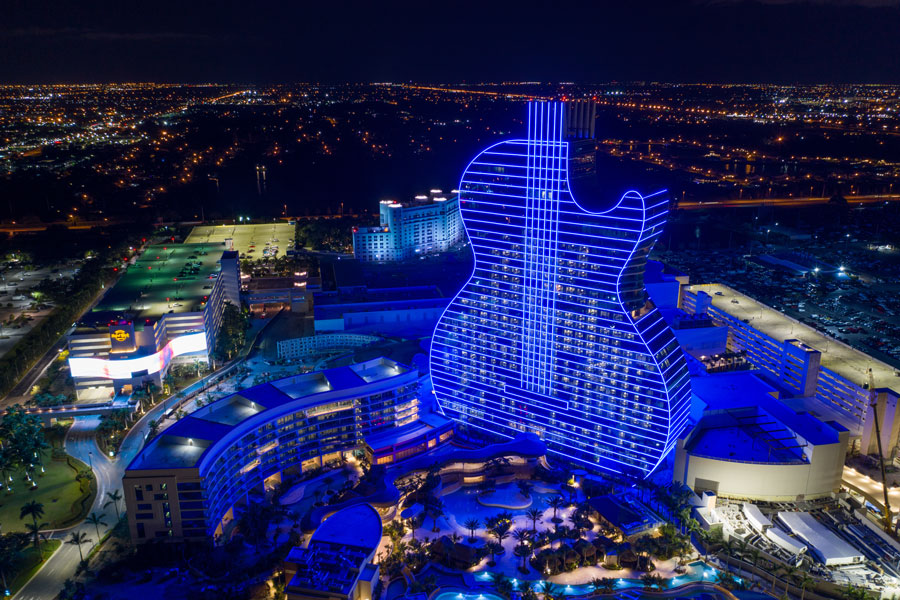 Hard Rock Announces Plans to Construct Guitar-Shaped Hotel on Las Vegas Strip As Part Of $1 Billion Deal
LAS VEGAS, NV – Hard Rock International announced last week that, as a part of a whopping $1 billion deal, they are intending to construct an elaborate guitar-shaped hotel on the famed Las Vegas Strip.
Hard Rock will be purchasing The Mirage's operations side from MGM Resorts International in a deal worth over $1 billion in cold, hard cash; part of that deal will see the development of a fancy new hotel that is sure to live up to Hard Rock's rock-and-roll reputation.
The hotel is slated to take the form of the purple-hued tower hotel in the shape of a guitar, with six bright light beams penetrating upward into the night, which will represent strings on the neck of a guitar. The hotel will be located directly next to The Mirage, which will be rebranded and renamed as the Hard Rock.
Hard Rock should fit in nicely with the plethora of themed hotels and resorts that Las Vegas is known for, such as the replica Eiffel Tower at Paris Las Vegas and The Mirage's volcano. However, currently, the announcement of this new venture is still early and no concrete details have been revealed yet about the project, according to Hard Rock spokeswoman Gina Morales.
"I wish we had more to share, but at this stage, we are not ready to discuss details on the design, development and timeline of the Las Vegas construction project," she said in a statement, adding that the "first order of priority is to be respectful of the process of gaming regulatory approvals and the closing."
Approvals and permits are anticipated to be completed by the end of 2022, Morales said, with development expected to commence shortly afterward.
Hard Rock International – owned by the Seminole Tribe of Florida – operates restaurants, casinos, hotels and other venues around the world; the organization owns a 450-foot-tall guitar-shaped hotel tower in Florida, which is similar in appearance as the one planned for the Las Vegas Strip.
Shelter Realty is a Real Estate and Property Management Company specializing in the areas of Henderson, Las Vegas and North Las Vegas, NV. Feel free to give us a call at 702.376.7379 so we can answer any questions you may have.