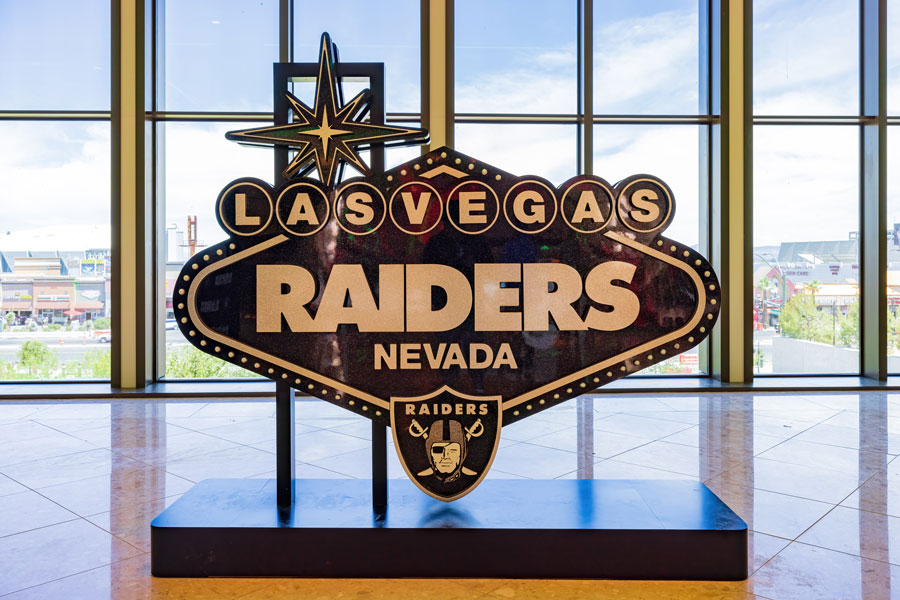 Las Vegas Raiders NFL Team Purchases Offices, Warehouse Adjacent to Allegiant Stadium
LAS VEGAS, NV – Expanding their footprint in Southern Nevada even further, the Las Vegas Raiders NFL team recently purchased an office and warehouse building across the street from their home of Allegiant Stadium, spending approximately $10.6 million according to property records.
The Raiders had already been utilizing the 33,000 square-foot building in question – located at 5525 Polaris Avenue – after having signed a 10 year long rental agreement in 2020 with brokerage firm Colliers International. However, for undisclosed reasons, the Raiders have instead opted to purchase the property outright.
To date, the Raiders – along with team owner Mark Davis – have amassed an impressive array of real estate transactions in Southern Nevada since transplanting the team there in 2020.
Initially, the Raiders purchased over 60 acres of land near the famed Las Vegas Strip in 2017 for 77.5 million; it was there that they constructed Allegiant Stadium, their 65,000 seat, $2 billion home stadium.
After that, they purchased an additional 55 acres in Henderson for approximately $6 million in 2018, where they then constructed a 300,000 square-foot practice facility and headquarters complex; however, in early 2020 they sold the complex for $191 million, only to subsequently lease it back from its new owner.
Then, in 2019, the Raiders purchased just over 17 acres of property within a mile of Allegiant for $28 million, in order to utilize it for stadium parking. 2020 saw the team buy an additional 3 acres west of the stadium for $16 million, as well as three industrial buildings next to their Henderson headquarters for over $56 million.
Davis has been buying and selling a great deal of real estate in Vegas on a personal basis as well; he has purchased both undeveloped land and a condo in the exclusive Summit Club community, only to later turn around and sell both before buying a 6.8 acre site in Henderson's Ascaya community, where he is currently building a three-story luxury estate.
Shelter Realty is a Real Estate and Property Management Company specializing in the areas of Henderson, Las Vegas and North Las Vegas, NV. Feel free to give us a call at 702.376.7379 so we can answer any questions you may have.