Las Vegas Raiders Address Parking Concerns by Purchasing Additional Land Near New $2 Billion Stadium
LAS VEGAS – Las Vegas Raiders officials announced this week that they have addressed potential parking concerns surrounding their stadium being constructed at Russell Road and Hacienda Avenue by purchasing additional areas of land in the area in order to convert it into additional parking, reports say. This land will add to the property's 63-acre plot where the new $2 billion, 65,000-seat home of the Raiders is slated to open for the start of the team's 2020 season.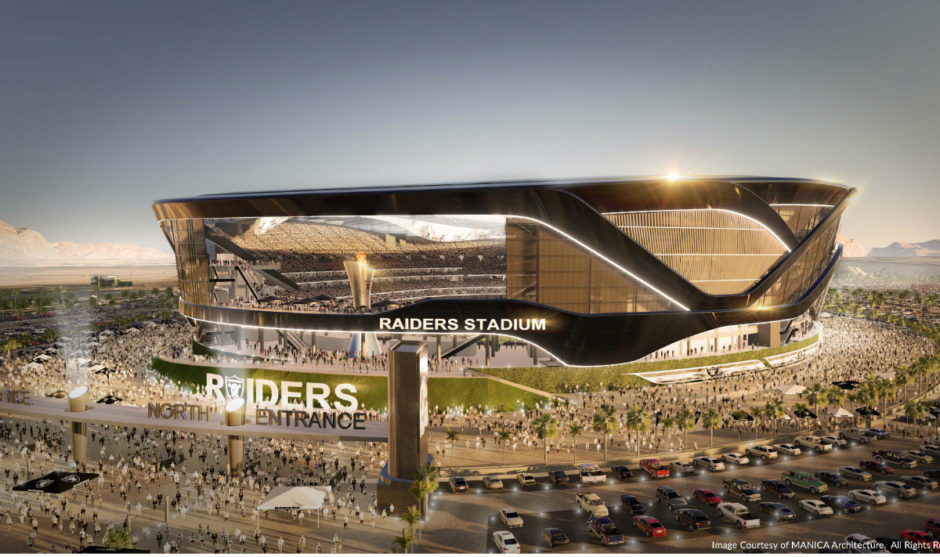 Accompanying the purchase and conversion of the new properties for parking purposes is also a comprehensive transportation plan for ferrying attendees to and from their vehicles; the move is expected to provide a large boost to the amount of parking available for the stadium, Raiders officials say. Currently, there are only 2,725 parking spots situated on the stadium property itself, but this move – Raiders management have purchased several plots of land adjacent to the stadium – is expected to provide approximately an additional 12,000 or so spaces nearby, as well as increase the number of the stadium's on-site spaces to almost 6,000. With the Clark County requirement of at least 16,250 parking spaces at the stadium, this move will exceed that number by at least 1,700 or more.
Raiders management are working out deals with area casinos to lease out excess fields for events and overflow parking when needed, reports say.
Transportation options are being researched and proposed by Clark County and Raiders management for attendees parked at the off-site lots, including a pedestrian bridge and an underground "people mover" that inventor and entrepreneur Elon Musk's the Boring Company recently won the $48.7 million bid to construct. Work on the people mover, which will involve a looping tunnel that shuttles attendees back and forth via electrical train cars, is stated to take just a year to complete.
Since the construction of the Las Vegas Raiders stadium was announced, one of the major issues that had generated concern was in regards to the parking available in the area, since much of the surrounding land is currently undeveloped. However, with the announcement of the additional land purchases by stadium management, these issues appear to have been adequately addressed, providing a viable solution that is expected to be ready for attendees in time for the Raiders' 2020 opening day festivities.
Shelter Realty is a Real Estate and Property Management Company specializing in the areas of Henderson, Las Vegas and North Las Vegas, NV. Feel free to give us a call at 702.376.7379 so we can answer any questions you may have.