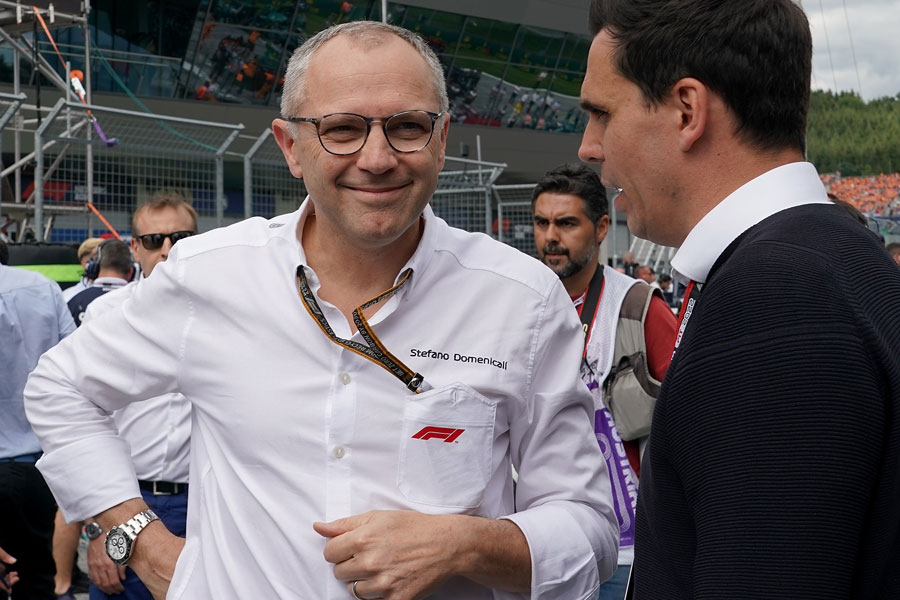 Las Vegas F1 Paddock Facility Site Reaches Major Construction Milestone 7 Months Before First Race
LAS VEGAS, NV – Construction crews recently reached a major milestone on the development of the F1 Paddock Facility site located off of the Las Vegas Strip in anticipation of the organization's first race in the city in decades, slated to take place in just seven months.
The 400 workers at the site held a topping out ceremony to celebrate the final barrier being installed on the structure's roof, a major achievement that signifies the Paddock Facility is now 60 percent complete.
Governor Joe Lombardo and F1 President Stefano Domenicali were at the ceremony, and symbolically signed the final barrier before workers lifted and installed it on the facility's roof.
"We want to create a legacy for Las Vegas and Formula 1 for the future," said Domenicali.
A paddock is where the race teams park their transporters; these transporters become temporary garages where the race mechanics prepare the race cars.
Previously, Formula 1 announced they will be putting $240 million into the street-based night race as part of a multi-year deal with the city of Las Vegas, making the event their third annual Grand Prix in the United States following the Grand Prix at Austin, Texas and the Miami, Florida Grand Prix.
The $240 million that Formula 1 is investing went into the acquisition of a 39-acre site in Las Vegas – located northeast of East Harmon Avenue and Koval Lane – in order to build a permanent pits and the aforementioned paddock facility.
Formula 1 cars are the fastest regulated road-course racing cars in the world, and the Grand Prix races take place worldwide on both purpose-built circuits and closed public roads.
The upcoming Las Vegas-based Grand Prix is slated to take place in the center of the city – with the track situated partly on the Las Vegas Strip – starting in November 2023.
Shelter Realty is a Real Estate and Property Management Company specializing in the areas of Henderson, Las Vegas and North Las Vegas, NV. Feel free to give us a call at 702.376.7379 so we can answer any questions you may have.