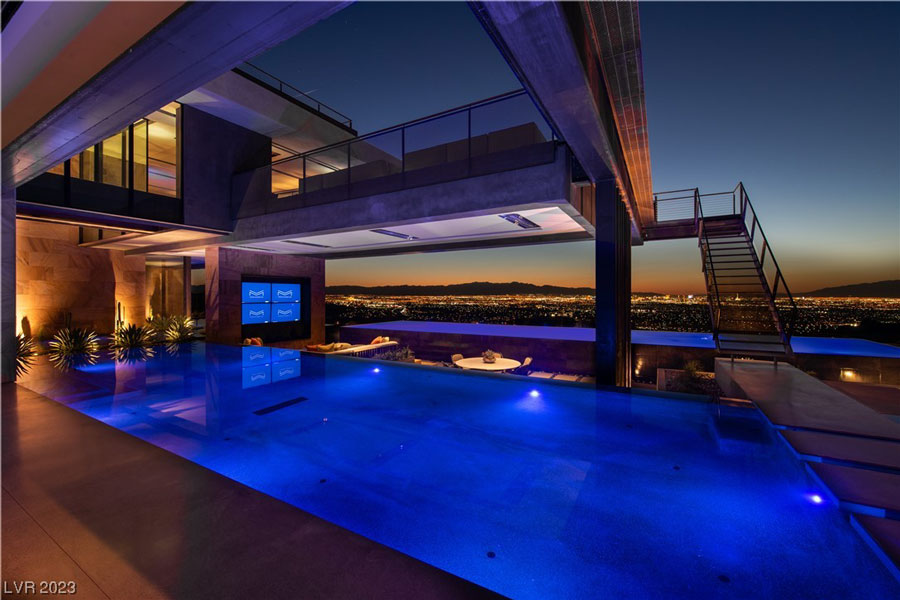 All-Time Highest-Priced Home Sold in Las Vegas For Sale Again Just Two Years Later
LAS VEGAS, NV – The all-time highest priced home sold in Las Vegas is suddenly finding itself back on the market a mere two years after it was originally purchased, however with a substantial uptick in its asking price.
The three-story, 15,000 square-foot home in Henderson's MacDonald Highlands community earned its place in the record books after it was sold in 2021 for a whopping $25 million, after initially being listed on the market at $28 million.  
The brand-new home, located at 685 Dragon Peak Park and built by luxury developer Blue Heron, was purchased by billionaire and LoanDepot Founder and Chairman Anthony Hsieh.
However, the home has recently found itself back on the open market once again, this time for the even more eye-opening sum of $34 million; when asked why its owner was willing to part with the property so soon after purchasing it, the listing agent stated that Hsieh is moving out because he is working on yet another home with Blue Heron that he intends to move into once its development is finished. 
685 DRAGON PEAK DRIVE, HENDERSON – $34,000,000.00
An ultra-sleek, high-tech showcase with a plethora of eye-opening amenities, Hsieh's soon-to-be-former residence features a great room with retractable walls, an office casita, water on three sides, views of both the Las Vegas Strip and the Red Rock Mountains, 200 solar panels, and a "smart home" system that allows users full control over the security system, sound system, and energy management. 
The home also boasts seven bedrooms – including a primary suite with a private patio and a separate suite accessed by a glass bridge – as well as nine bathrooms and a garage with room for up to 11 cars.
The home's chef's kitchen is also impressive, with Wolf and Sub-Zero touchscreen appliances, a full catering kitchen, and a glass wine cellar.
While Hsieh's $34 million asking price may seem steep, it should be noted that new-build luxury sales in Las Vegas have been proven to be largely immune to the real estate slowdown plaguing most of the nation, already breaking its record for the number of sales over $1 million in the first half of 2023. 
See full listing details for 685 Dragon Peak Park, Henderson
Shelter Realty is a Real Estate and Property Management Company specializing in the areas of Henderson, Las Vegas and North Las Vegas, NV. Feel free to give us a call at 702.376.7379 so we can answer any questions you may have.