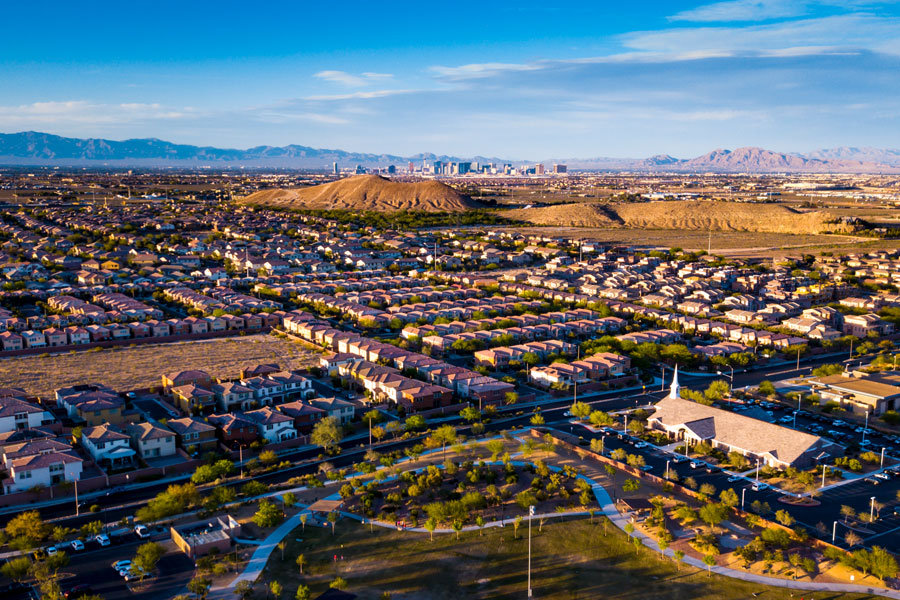 Enterprise, Township in Southwest Vegas Valley, Rated One of Fastest-Growing in the Country
LAS VEGAS, NV – Las Vegas has seen an explosion in the expansion of both its residential and commercial sectors in recent years – including Summerlin, Henderson, and the Las Vegas Strip, to name a few – but Enterprise, an up-and-coming township located in the southwest Las Vegas Valley, has been turning heads lately as one of the fastest growing areas in the United States.
Clark County statistics indicate that Enterprise is currently experiencing a degree of rapid growth that puts it ahead of any unincorporated area in the Valley; in fact, if it were to incorporate itself today, it would rank only behind Las Vegas, Henderson and North Las Vegas in terms of the largest cities in the county.
While Enterprise has been in existence for some time, Clark County Commissioner Justin Jones noted that the main factor contributing to its current skyrocketing growth was the recent construction of a major roadway and the development of several high-end neighborhoods.
Enterprise really started to explode with the construction of the 215 Beltway and development of the Rhodes Ranch, Mountain's Edge and Southern Highlands master-planned communities, which began more than 20 years ago," Jones said. "With the beltway providing a connection to the Summerlin and Henderson communities and easy access to the airport and the Strip, Enterprise was highly attractive to working families and businesses."
Enterprise is located on a plot of land approximately 66 square miles – or 42,600 acres – south of the 215 Beltway, beginning in the vicinity of Fort Apache Road and Warm Springs Road and ending at the intersection of Interstate 15 and St. Rose Parkway.
In addition of the 215 Beltway and the aforementioned master-planned communities, other significant developments in the township consist of a planned high-speed rail Brightline Station that would serve as a direct link to Los Angeles; a potential NBA arena and casino resort; and several high-profile resorts and residential projects that are currently either in the planning or active construction phases.
According to 2022 Clark County statistics, Enterprise boasts a population of 233,896 residents, 185,506 single-family homes, and over 29,000 apartment units, with many industry experts calling the township a legitimate real estate hotspot that will continue to grow and thrive for years to come.
Shelter Realty is a Real Estate and Property Management Company specializing in the areas of Henderson, Las Vegas and North Las Vegas, NV. Feel free to give us a call at 702.376.7379 so we can answer any questions you may have.