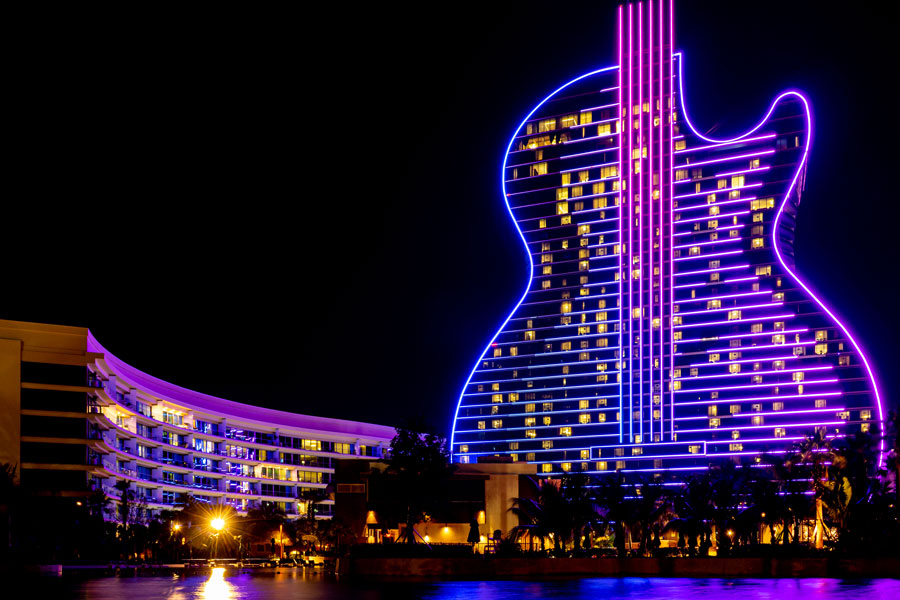 Clark County Approves Construction of Hard Rock "Guitar Tower," Replacing Mirage's Iconic Volcano
LAS VEGAS, NV – Hard Rock International, the new owners of the Mirage Las Vegas, have gained the approval of the Clark County Zoning Commission to replace the resort's iconic volcano attraction with a massive guitar tower-themed resort and casino, reflecting the eventual rebranding of the property into the Hard Rock Las Vegas.
The Mirage Las Vegas transferred operations in December 2022 from MGM Resorts International to new owners Hard Rock, the gaming arm of the Seminole Tribe of Florida, who purchased the rights to operate the resort for $1.075 billion; this marks the first time that a Native American tribe has run a Las Vegas Strip-based casino in history.  
While Hard Rock plans to continue operating The Mirage under its current name for the time being, the eventual plan is to re-brand the resort with the Hard Rock name in 2024 and redevelop the building into the same trademark guitar-style shape as other Hard Rock resorts. 
The eventual plan for the resort includes a 600-room, 660-foot-tall project along Las Vegas Boulevard – slated to be built exactly where the existing Mirage volcano currently is – with 49,000 square feet of gaming area and 96,000 square feet of retail and restaurants; amenities will include a pool, spa, fitness center, and salon.
According to Jennifer Lazovich, a land-use attorney with law firm Kaempfer Crowell, the design of the proposed tower that Clark County approved last week will see it take the form of giant back-to-back guitars featuring "brightly lit strings" and massive floor-to-ceiling glass panes. 
Hard Rock had been repeatedly questioned about their plans for the volcano attraction since taking over the property, which has entertained tourists and visitors to the city for years; unfortunately, earlier this year the company confirmed their plans to eventually demolish it, citing the fact that it does not generate any revenue.
For the time being, MGM will license the "Mirage" name to Hard Rock until the rebranding project is complete; Hard Rock Las Vegas is expected to open in 2025 or 2026. 
Shelter Realty is a Real Estate and Property Management Company specializing in the areas of Henderson, Las Vegas and North Las Vegas, NV. Feel free to give us a call at 702.376.7379 so we can answer any questions you may have.