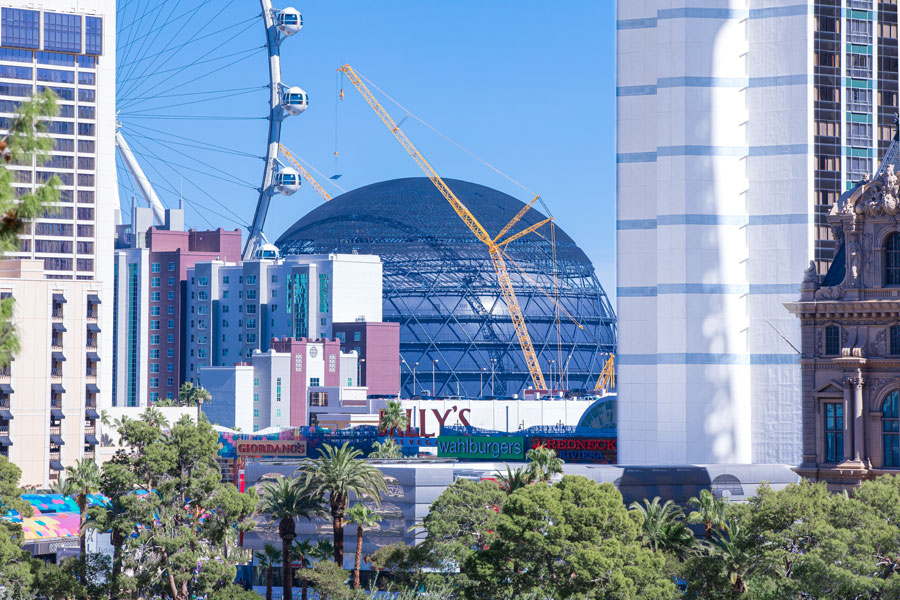 MSG Sphere, Still in Development, Becomes Most-Expensive Las Vegas Entertainment Venue Ever at $2.17 Billion
LAS VEGAS, NV – The MSG Sphere, the high-tech entertainment venue that has been under construction off of the famed Las Vegas Strip since its initial groundbreaking in September 2018, has encountered a series of financial overruns during its development saga that has caused it to exceed Allegiant Stadium as the city's priciest entertainment venue ever.
Originally, Madison Square Garden Co. – in conjunction with partner Las Vegas Sands Corp. – had estimated the cost of the high-tech stadium at $1.2 billion; however, the initial general contractor of the project, AECOM, later announced that costs were more likely in the range of $1.7 billion. Madison Square Garden took over as general contractor in December 2020, although AECOM continued to provide support.
Costs have ballooned in the four years since the groundbreaking, however, and are now estimated to be a whopping $2.17 billion, taking the title of the costliest entertainment venue in Las Vegas away from the $1.9 billion Allegiant Stadium.
The 17,500-seat auditorium was initially scheduled to open in 2021, but construction was suspended in April 2020 due to the COVID-19 pandemic; construction resumed later that year, with the venue now slated to open in the second half of 2023.
When completed, the MSG Sphere will be a 400,000-square-foot, 18,000-seat, 360-foot-tall globe-shaped arena on 63 acres of property located behind the Venetian Resort Hotel Casino on the Las Vegas Strip.
The exterior of the sphere will feature 36 miles of variable intensity LED lighting – known as an exosphere – enabling the structure to allow outside spectators to peer through a transparent façade to watch the concert within; at higher lighting intensities, outside vision will be obscured.
The venue will cater to musical performances and concerts; however, the occasional boxing or MMA contest could be held there as well, according to Madison Square Garden Co.
Shelter Realty is a Real Estate and Property Management Company specializing in the areas of Henderson, Las Vegas and North Las Vegas, NV. Feel free to give us a call at 702.376.7379 so we can answer any questions you may have.