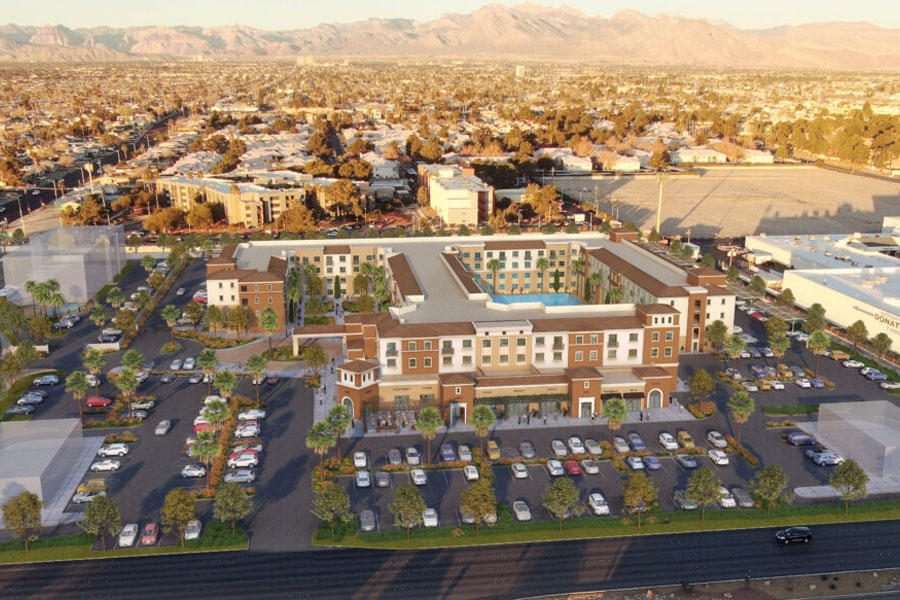 Two New Affordable Housing Complexes Set to Open Amid Skyrocketing Las Vegas Rents
LAS VEGAS, NV – Amid skyrocketing rents in Las Vegas driving very real cost-of-living concerns, two new affordable housing apartment complexes – both being constructed by the same developer – are set to open soon, allowing families and individuals on a budget a way to put a roof over their heads.
Decatur Commons Family and Decatur Commons Senior – neighboring buildings located at Decatur Boulevard and U.S. Highway 95 near Meadows Mall that are being developed by Nevada HAND will offer 480 residential units between them both when the $110 million project is completed.
Nevada HAND President and CEO Audra Hamernik noted on Friday that development on both apartment complexes will be finished by August; tenants have already started to rent and move into units in February, she said.
Las Vegas has a very real need for more affordable housing options for its residents; high demand, limited inventory, and rapidly-rising prices have created a serious issue for many families looking for a place to live that fits within their budgets, already stretched thin by record-breaking national inflation. However, Hamernik said the company is doing whatever it can to cater to families priced out of the typical Vegas real estate market.
Currently, the average rent for a home in the region was $1,847 in May, representing a 18.8 percent increase from the same period of time one year prior; however, as per Hamernik, the average rent of a unit in one of Nevada HAND's properties is just $733 per month.
Hamernik said that Nevada HAND receives constant contact from Las Vegas residents looking for affordable housing options; the company currently has a portfolio in the city spanning 4,700 units, but vacancies are rare due to the highly-competitive pricing.
"The demand is just outpacing our supply," she said.
For more information on the coming Decatur Commons Family and Decatur Commons Senior communities visit https://www.nevadahand.org or call them at (702) 739-3345.
Shelter Realty is a Real Estate and Property Management Company specializing in the areas of Henderson, Las Vegas and North Las Vegas, NV. Feel free to give us a call at 702.376.7379 so we can answer any questions you may have.