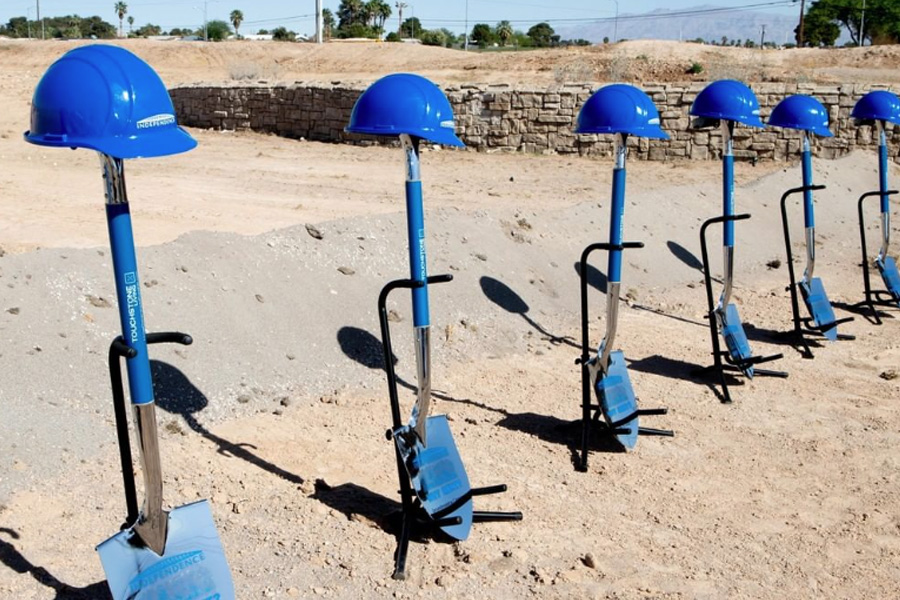 Groundbreaking Ceremony Held for Conversion of Las Vegas Golf Course to 1,600-Home Development
LAS VEGAS, NV – The former Royal Links golf course is finally on its way to providing numerous affordable homes for Southern Nevada residents, having recently held its officially groundbreaking ceremony to signify that impending start of construction efforts for the eastern Las Vegas Valley-based housing tract.
Touchstone Living founder Tom McCormick, who purchased the shuttered Royal Links golf course in December 2021 for $33.7 million, said that the new housing community his company will be building – now dubbed Independence – is currently due to commence on the third quarter of 2022, initially starting with model homes to entice buyers before moving on to the proper homes they will be offering.
Already, the grass from the original golf course has been removed, with the landscape now covered with various pieces of construction equipment in anticipation of the start of work, which is expected to produce up to 1,600 homes, in addition to numerous residential amenities, such as parks, pools, and playgrounds.
Independence – located along Vegas Valley Drive east of Nellis Boulevard – is hoping to attract first-time buyers and will offer homes in the $200,000 price range; McCormick has noted there are no other projects producing new homes in Southern Nevada in such a buyer-friendly price range.
To drive home that point, those attending the groundbreaking on Monday were wearing blue-and-white Independence shirts with the slogan "why rent?" on them, touting the affordability that the new community will be offering to local residents.
In Southern Nevada, home development is predominantly carried out in suburban areas such as the southwest valley, Summerlin and Henderson; in comparison, the east valley is relatively ignored by developers, allowing the 162-acre Independence a degree of distinction among its peers.
The affordable prices that Independence will be offering for housing will run in direct contrast with the average median home price in Las Vegas, which recently hit $483,000 in March.
Shelter Realty is a Real Estate and Property Management Company specializing in the areas of Henderson, Las Vegas and North Las Vegas, NV. Feel free to give us a call at 702.376.7379 so we can answer any questions you may have.