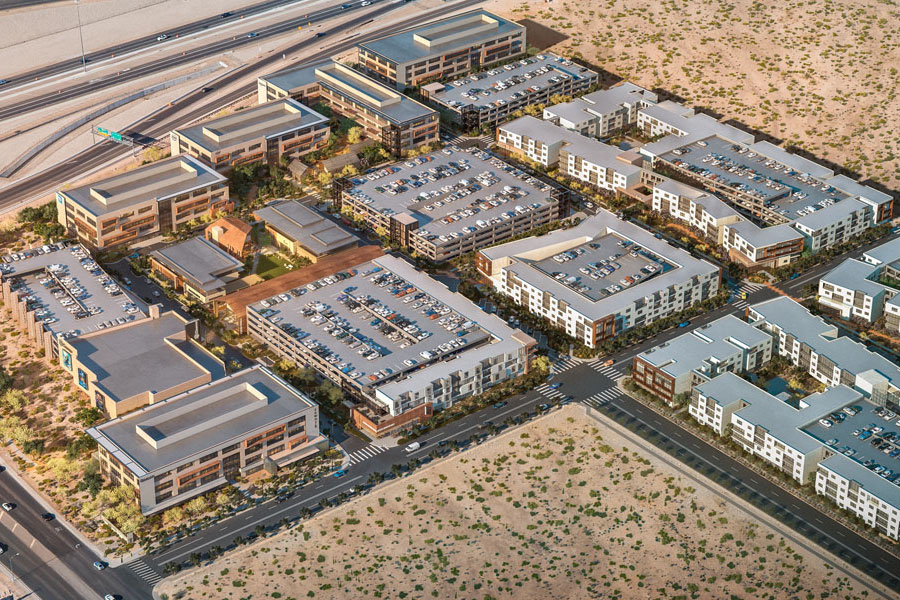 Phase Two of Las Vegas "UnCommons" Mixed-Use Project Officially Breaks Ground
LAS VEGAS, NV – UnCommons – a large mixed-used facility currently under development in southwestern Las Vegas – has officially entered phase two of its construction after having fully leased the buildings that were erected during the first phase.
Upon completion, UnCommons – located at Durango Drive and the 215 Beltway in the southwest valley – will essentially be a mini-city within a city, consisting of 500,000 square feet of offices, in addition to restaurants, health and fitness studios, relaxation options, and over 830 residential units.
The concept behind the development is that it will be a space where the various employees working for the businesses located there will have numerous solutions to all of their needs – living space, entertainment, exercise, and more – right there at their fingertips.
Phase one of the $400 million project – which broke ground in August 2020 after a series of delays brought on by the COVID-19 pandemic – consisted of two office buildings, two parking garages, and food and beverage space.
According to Matter Real Estate Group – the company behind UnCommon's development – the first office tenants will start opening for business in June, with food-and-beverage outlets starting in July; currently, the company notes that retail options at UnCommons are approximately 90 percent leased.
The second phase will add an additional two office buildings, a third parking garage, and a building called The Assembly, which will offer 5,000 square-feet of conference center space to accommodate up to 250 people, as well as food catering provided by the various eateries located in UnCommons itself.
Experts are expecting the UnCommons project – with its proposed goal of catering to the extensive needs of a diverse cross-section of the professional population – to make quite a splash when it is completed.
Phase two of construction for UnCommons is slated to be completed in summer 2023.
Shelter Realty is a Real Estate and Property Management Company specializing in the areas of Henderson, Las Vegas and North Las Vegas, NV. Feel free to give us a call at 702.376.7379 so we can answer any questions you may have.