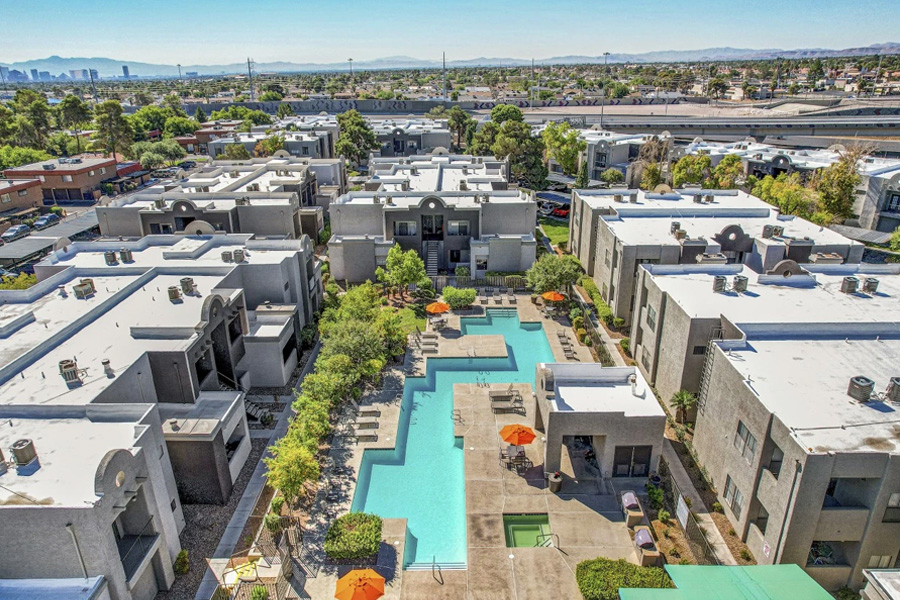 Investor Makes Second High-Profile Las Vegas Apartment Purchase for $73.1 Million; Seller Enjoys Fourfold Price Increase
LAS VEGAS, NV – The St. Croix multifamily community in Las Vegas was recently purchased by SB Real Estate Partners for $73.1 million from Strata Equity, which represents the second high-profile – and high-priced – acquisition of a Southern Nevada apartment complex by SB in 2021.
The 256-unit, 21-building garden-style St. Croix community was purchased in an off-market transaction, and will be rebranded as Portola West Vegas. SB is planning on infusing the property with $4 million in upgrades and renovations – both to the inside and out – to reportedly increase its "competitiveness" in the Las Vegas marketplace.
The community was last sold in 2013, when Strata Equity bought it for $18.7 million; the $73.1 million price they got from SB represents a whopping fourfold increase on Strata's initial investment in the property.
SB has announced their intention to commit a significant amount of investment resources – to the amount of $300 million – into the Las Vegas metro marketplace in 2022 with several more purchases of rental properties in the cards.
Their first entry into the Las Vegas real estate marketplace was made this past November when SB purchased the 241-unit Russell Apartments, which has since been rebranded as Portola on Russell; extensive renovations in the amount of $2 million were announced for that property as well.
SB noted at the time of Russell's purchase the property would be the first of many investments the firm would make in higher-end Las Vegas apartment complexes that they would be offering at lower-than-average rental price points.
The firm was initially attracted to the Las Vegas marketplace by the population boom in the wake of the COVID-19 pandemic, which saw many families transplanting themselves to Southern Nevada from states with higher costs of living, attracted by promises of a cheaper lifestyle, a booming economy, and a blossoming job market.
Shelter Realty is a Real Estate and Property Management Company specializing in the areas of Henderson, Las Vegas and North Las Vegas, NV. Feel free to give us a call at 702.376.7379 so we can answer any questions you may have.