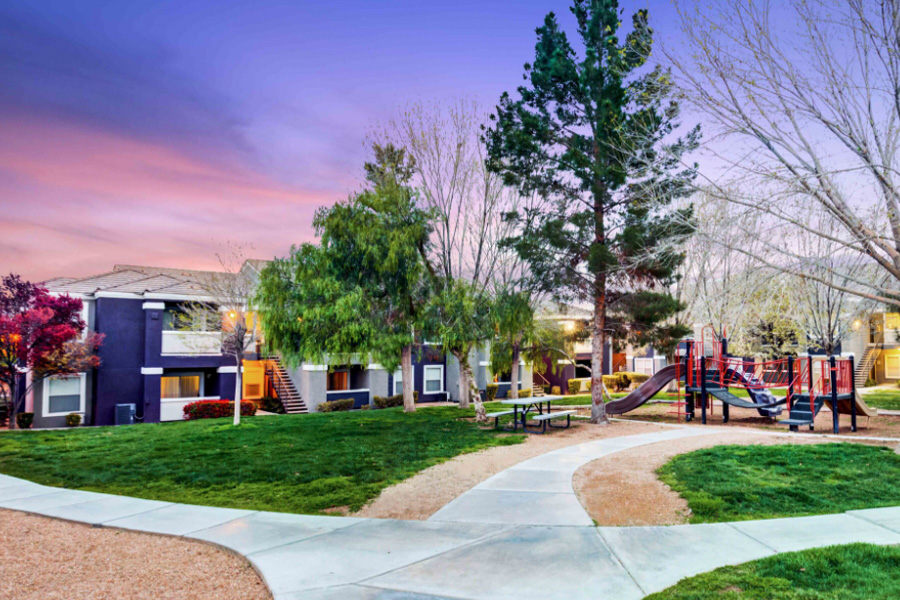 Russell Apartments of Las Vegas Purchased by SB Real Estate Partners for $67 Million
LAS VEGAS, NV – The Russell Apartments, a 241-unit garden-style apartment community in West Las Vegas, has been purchased by a California-based firm that is making its first foray into the Southern Nevada real estate marketplace.
SB Real Estate Partners reportedly paid $67 million for The Russell Apartments, which was 98 percent leased at the time of the sale. SB has announced that they intend to invest an additional $2 million for renovations and upgrades into the property, located at 9620 West Russell Road, with plans to re-brand it as "Portola on Russell."
Planned renovations to the property include improvements to apartment interiors, common areas, and the facility's exterior.
The Russell Apartments features one, two, and three-bedroom apartments, in addition to an array of upper-scale amenities, such as a resort-style pool area with a pool-side cabana, barbecue grills, lounge seating areas, a fitness center, dog park, playground, sand volleyball court and a putting green.
SB Real Estate Partners have stated that upon completion of the proposed renovations, the apartment community will be able to compete with higher-end rental complexes in the Las Vegas valley, while offering a lower-than-average price point for rent.
As California residents have been fleeing the state due to ever-increasing taxes and unsustainable living costs, Southern Nevada has seen new additions to its population on a regular basis due to it's much more reasonable living expenses when compared to its neighboring state to the west.
In addition, the prominence of remote working during the COVID-19 pandemic – especially when it comes to the tech industry – has also been driving up Nevada's population as well in the past year, and due to these realities, SB Real Estate Partners noted that it was time for them invest in the Las Vegas real estate marketplace.
Shelter Realty is a Real Estate and Property Management Company specializing in the areas of Henderson, Las Vegas and North Las Vegas, NV. Feel free to give us a call at 702.376.7379 so we can answer any questions you may have.