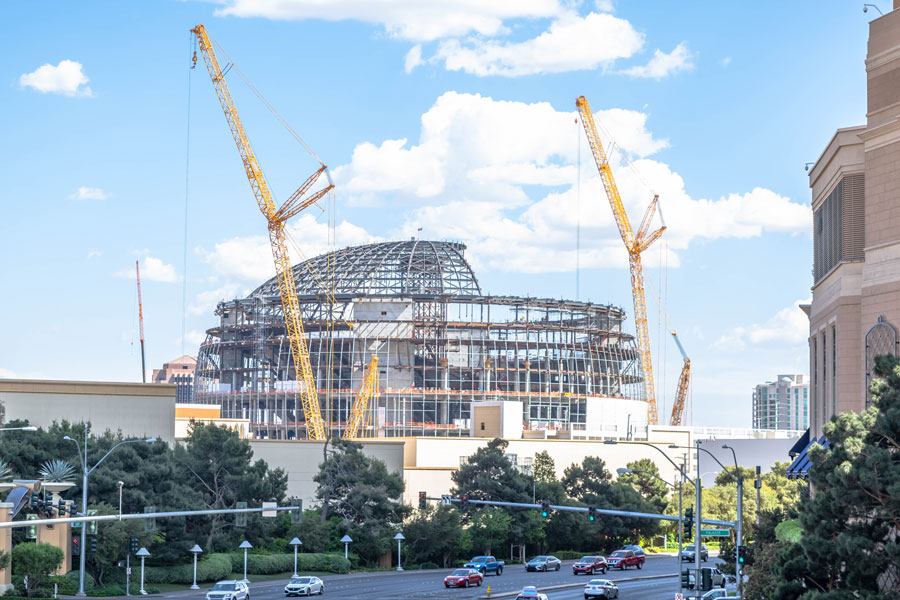 High-Tech Event Venue MSG Sphere Reaches Major Construction Milestone on Way to 2023 Completion
LAS VEGAS, NV – The MSG Sphere at the Venetian, the much talked-about high-tech Las Vegas event venue that is currently in the works, reached a major development milestone recently when the final 32 steel beams were bolted into place by the 650-strong construction crew, according to reports.
Madison Square Garden Entertainment (MSG) Corporation is the construction manager of the MSG Sphere, and handles "strategic planning and the construction timeline, as well as management of all subcontractors," according to a press release put out by the company. The previous construction manager, an engineering firm called AECOM, remains in a supporting role.
Madison Square Garden Company Vice President of Construction Nick Tomasino noted that there will be two "topping out" ceremonies for the project, with the first representing the completion of the steel beam bolting and the second slated for 2022, when the venue's "exosphere" will be added.
The exosphere will consist of 580,000 square feet of LED light panels that will be able to be seen from several miles in the distance, and will increase the height of the current MSG Sphere itself by approximately 30 percent.
When completed, the MSG Sphere will be a 400,000-square-foot, 18,000-seat, 360-foot-tall globe-shaped arena slated to be constructed on 63 acres of property located behind the Venetian Resort Hotel Casino on the Las Vegas Strip. The exterior of the sphere will feature 36 miles of variable intensity LED lighting – the aforementioned exosphere – enabling the structure to allow outside spectators to peer through a transparent façade to watch the concert within; at higher lighting intensities, outside vision will be obscured.
The venue will typically not feature sporting events, but rather cater to musical performances and concerts; however, the occasional boxing or MMA contest could be held there if needed. Originally slated to be opened in 2020, the project has fallen behind scheduling estimates and is now eying a 2023 opening date.
Shelter Realty is a Real Estate and Property Management Company specializing in the areas of Henderson, Las Vegas and North Las Vegas, NV. Feel free to give us a call at 702.376.7379 so we can answer any questions you may have.