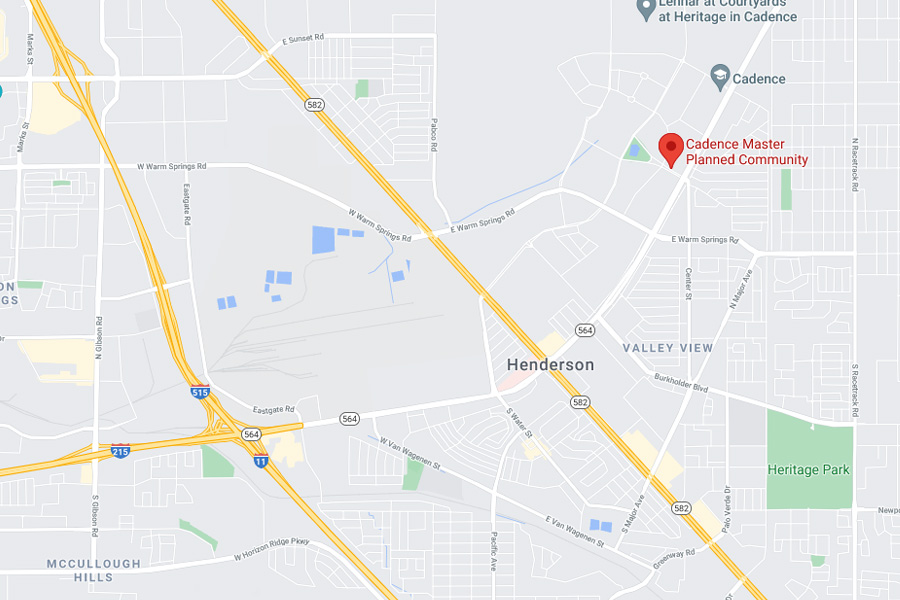 Apartments, Rental Homes to be Constructed in Henderson's Cadence Community
LAS VEGAS, NV – According to reports, Cadence – a recently-built master-planned community located within the city of Henderson – has been the center of a number of new building efforts recently, with several developers hard at work constructing apartment complexes and tracts of rental homes to satisfy Las Vegas' ongoing need for housing amid the end of the COVID-19 pandemic.
Already one of the top-selling locations in Southern Nevada in terms of new single-family homes, rental developers are now making their presence felt in Cadence; Scottsdale, Arizona-based The Wolff Company are planning to build a 388-unit apartment building, and A.G. Spanos – headquartered in Stockton, California – has a 265-unit apartment complex in the works as well. Both projects are expected to break ground either this year or in early 2022.
In addition, a tract of single-family rental homes was recently opened in the community by American Homes 4 Rent, a real estate investment trust based in Calabasas, California; several tenants have already moved in, reports say.
With the COVID-19 pandemic seemingly on its last legs as vaccine rollout continues, the rental scene in Las Vegas and its surround communities is on a state of constant flux; the need for rental housing options is greater than it has been in years as the local economy continues to recover, but the impending end of the federal eviction moratorium looms at the end of the month, it us unknown how many residents may be facing eviction.
While developers may be working at a fever pitch at the moment in order to satisfy demand, it still remains to be seen how many pre-existing rental units may eventually be opening up after potentially thousands of eviction proceedings kick in come July 1.
Until that question is answered, one thing remains certain – currently, Las Vegas residents are renting apartments and houses at record paces, rents are increasing at some of the fastest rates in the United States due to demand, and more and more developers are working on rental projects.
Shelter Realty is a Real Estate and Property Management Company specializing in the areas of Henderson, Las Vegas and North Las Vegas, NV. Feel free to give us a call at 702.376.7379 so we can answer any questions you may have.