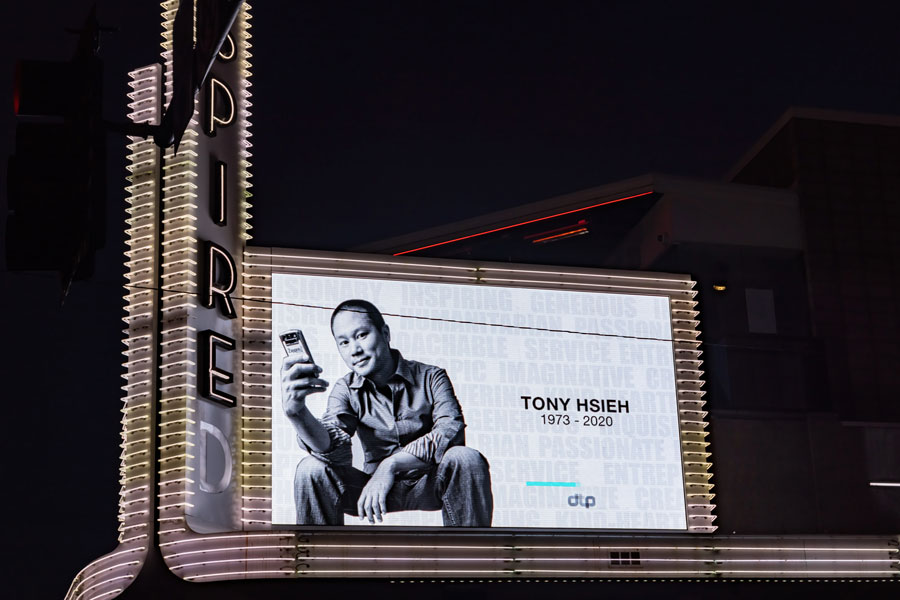 Family of Late Entrepreneur Tony Hsieh Lists Nearly 100 of His Las Vegas Properties on The Open Market
LAS VEGAS, NV – According to reports, much of the Las Vegas real estate empire amassed by late entrepreneur and former Zappos CEO Tony Hsieh has been listed on the open market by his family, totaling nearly 100 properties throughout the downtown area. Hsieh had passed away in November at the age of 46 due to injuries suffered in a Connecticut house fire, and had no will before his death, reports say.
Representatives of the family have filed dozens of notices with Clark County District Court, with the properties in question slated to go to the "highest and best bidder," with all transactions being cash only, representing hundreds of millions of dollars.
Properties up for grabs, reports say, are located around downtown's Fremont Street area and include Zappos Headquarters – which he originally purchased for $65 million – as well as retail and food complexes Downtown Container Park and Fergusons Downtown, among many others.
However, the estate's lawyer, Dara Goldsmith, noted that it is possible that not all of Hsieh's properties would be sold, as the notices filed with the court allow for the "possible future sale" of the real estate in question.
"The estate may retain certain properties and sell others, or it may retain all of the properties," she said. "Once the publication process is complete, the estate will consider reviewing serious, written offers."
For 20 years, Hsieh – who had a net worth of hundreds of millions of dollars – headed up retail giant Zappos, selling the retailer to Amazon in a $1 billion-plus deal in 2009; he had retired as its CEO in August 2020. He is credited by many as being a central figure in the revitalization of Downtown Las Vegas.
Shelter Realty is a Real Estate and Property Management Company specializing in the areas of Henderson, Las Vegas and North Las Vegas, NV. Feel free to give us a call at 702.376.7379 so we can answer any questions you may have.