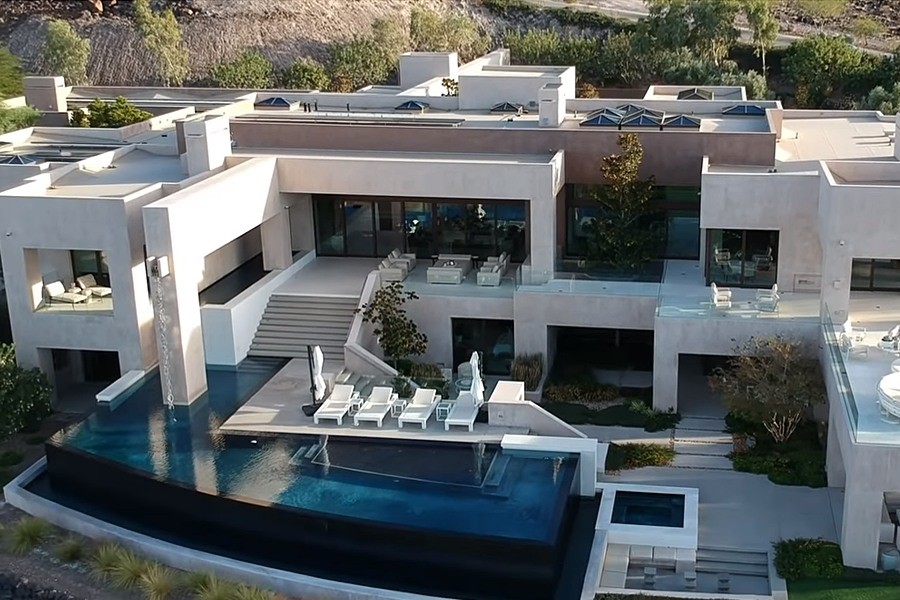 Henderson Records Las Vegas' Largest Home Sale in Over a Year at $11.25 Million
LAS VEGAS, NY – Gaming industry legend and philanthropist Diana Bennett set a record recently when she was responsible for the highest-priced home sale in Las Vegas in over a year, letting go of her Henderson mansion at 770 Dragon Ridge Drive, Henderson, NV 89012 – for a cool $11.25 million, according to reports.
Bennett, a Northern California businesswoman, co-founder of Paragon Gaming, and inductee into the American Gaming Association's Hall of Fame, closed on her 17,562 square-foot desert-contemporary-style home last week. The residence features five bedrooms, 10 bathrooms, a gymnasium with a steam shower, a 12-seat movie theater, infinity-edge pool, a pool, a fountain, a massage room, wine cellar, and game room.
Events at the home can accommodate as many as 400 guests, and to that end there are living room-based bars and even paintings that hide televisions behind their facades. The dining room features a design that sees the table surrounded by man-made ponds of water and the room itself is topped off by a large skylight.
The mansion, located in the MacDonald Highlands in Henderson, is also a "green" property, with solar panels on the roof. The buyer has not yet been disclosed. The sale of the Bennett mansion is the largest one on record since July 2019, when Jim Rhodes – well-known Las Vegas developer – sold his home in Spanish Hills for $16 million.
The sale is yet another example of how the COVID-19 pandemic has not had a major negative impact upon the sales of luxury homes in Las Vegas. Real estate in general, while down a bit at first, suffered no major long-term ill effects and has continued to bounce back faster than many experts expected. However, luxury homes in particular have had record sales as of late, with July 2020 seeing the largest amount of them changing hands in the last ten years or more, experts say.
In fact, many are of the opinion that based on current sales figures, 2020 may be on the path to be one of the busiest and most lucrative years on record in terms of luxury home sales.
Shelter Realty is a Real Estate and Property Management Company specializing in the areas of Henderson, Las Vegas and North Las Vegas, NV. Feel free to give us a call at 702.376.7379 so we can answer any questions you may have.