Las Vegas Rental Rates Continue to Increase While Home Resale Prices Stabilize, Reports Say
LAS VEGAS – After a record amount of time for rampant appreciation in value, Las Vegas home prices have begun to stabilize is as of late, with overall growth slowing in response to current market conditions. The same cannot be said, however, for the rates of Las Vegas rental properties, as prices continue to increase in response to overall demand, according to reports.
Las Vegas home resale prices have decelerated by 11 percent when compared to the same time one year ago; currently, the median sales price for a single-family home is approximately $300,000, and has held at this level for several months now. As a result of this, home appraisals are being affected due to the fact that home prices are no longer skyrocketing as they were late last year; some homes are coming in valued less than their owners currently would like, according to reports.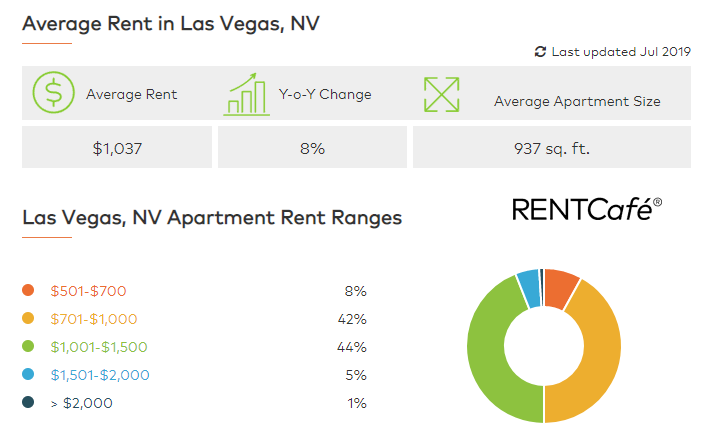 However, while home prices have apparently hit a plateau for the time being, the rates for rental properties, in contrast, continue to rise in the Las Vegas area. A recent report released last week noted that Las Vegas has one of the fastest-rising levels of rent prices in the United States. The average monthly rent for homes in Las Vegas was approximately $1,465 in the first quarter of 2019, which represents a near 6.8 percent increase from the same period in 2018. In addition, the average monthly rent for a one-bedroom apartment was $1,025, which represents an increase of over 7 percent from the same time last year.
While home buyers are beginning to find the stabilizing prices in Las Vegas to be a boon – prices have been rising steadily in the market since it recovered from the national recession in 2012 – those looking to rent are reportedly having a more difficult time finding affordable places to live. Likewise, rental units are in such demand that they are often snapped up as quickly as they are shown by realtors, presenting a problem even for those who are fully able to afford the current asking price.
More than likely, rental prices will eventually stabilize as well, especially in light of news that developers have been increasing work on constructing new apartment complexes in Las Vegas. As always, demand sets the price, and as more units go on the market, rental prices should stabilize.
Shelter Realty is a Real Estate and Property Management Company specializing in the areas of Henderson, Las Vegas and North Las Vegas, NV. Feel free to give us a call at 702.376.7379 so we can answer any questions you may have.