Clark County, NV FHA Loan Limits Decrease By $128,950 On Oct.1
Clark County, NV FHA Loan Limits Decrease By $128,950 On Oct.1, 2011
Important Announcement – If you are considering securing FHA 3.5% down financing for a home in Clark County (Las Vegas, Henderson, North Las Vegas, Boulder City), you have until October 1, 2011 fund on your loan before the loan limits drop from $400,000 to $271,050.
What this basically means is that the alternative to FHA Mortgage Loans is finding a Conventional Mortgage, which may require a much larger down payment (up to 20%), as well as higher credit scores and income requirements.
Quick Background:
When Congress passed the Economic Stimulus Act in 2008, FHA loan limits were temporarily raised to help borrowers in higher cost areas obtain financing through FHA to help offset the reduction in private financing due to the credit crunch. These Loan Limit increases were substantial in many areas of the country and were set to expire in the future. ( I wonder if Congress knew we'd have a housing bubble )
Congress passed additional legislation to extend these loan limits for the past couple of years. However, barring any Congressional action, the FHA Loan Limits are set to revert to the 2008 formula as of October 1, 2011.
Clark County FHA Loan Limits / Proposed Changes:
| | | | | |
| --- | --- | --- | --- | --- |
| Number of Units in property: | 1 Unit | 2 Units | 3 Units | 4 Units |
| Current FHA Loan Limits: | 400,000 | 512,050 | 618,950 | 769,250 |
| Proposed FHA Loan Limits (Oct.1, 2011): | 271,050 | 347,000 | 419,425 | 521,250 |
| Reduction Amount: | (128,950) | (165,050) | (199,525) | (248,000) |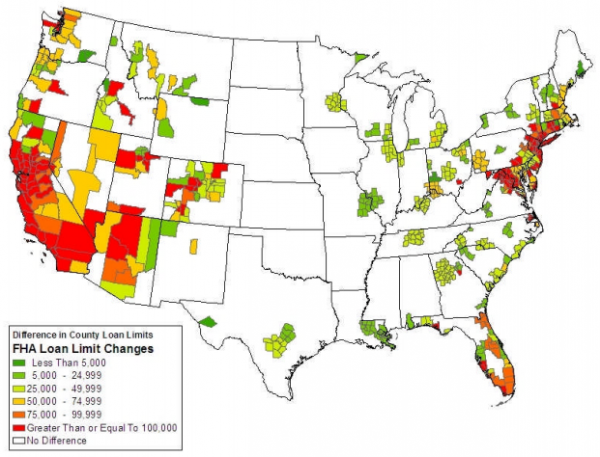 * Sources: Search FHA Loan Limits | May 26, 2011 – FHA Loan Limit Brief
How Will This Impact Buyers?
A few of the major benefits of an FHA Mortgage Programs:
Liberal Credit Requirements (580-640 Fico Scores May Work)
Lower Rates (Not hit with rate increases due to lower FICO scores – LLPA)
3.5% Downpayment
While there is mortgage money available… for now, Section 941 of the Dodd-Frank Act pertaining to risk retention and the Act's definition of qualified residential mortgages (QRMs) could make it very challenging for many First-Time Home Buyers to get a loan. (Video: "Skin In The Game)
However, the difference in downpayment and higher rates may actually force the sellers who have their properties listed in the low $300,000 range to drop their prices just to compete for the FHA borrowers.
Not sure, but this theory makes sense to me, especially if we're talking about Las Vegas Short Sales and REO's where the banks will need to price their listings according to accurate market comps.
Buy now, or wait for the FHA loan limits to decrease, along with property values?
Tough question to answer if you're only concerned with value, equity and other "investment" related topics that probably shouldn't be mixed with the decision to purchase a primary residence.
And if you're a cash investor, then this FHA loan limit decision probably won't impact the homes in your price range of Las Vegas real estate investment deals under $145,000.
Keep in mind that 51% of residential properties purchased in Clark County last month were paid for in cash, and not secured by a mortgage loan.
Either way, the following map and list of homes for sale in Las Vegas and Henderson may give you an idea of what you could miss out on once the FHA Loan Limits in Clark County decrease.
The two main questions to ask yourself area whether you would rather pay 3.5% or 20% down, and if you're willing to risk getting a higher rate by waiting until after October 1 to see what the market does.
* This list updates every day from the "ACTIVE" listings in the MLS. Once a property goes into contract or "Pending" status, it is automatically removed from this list.
[idx-listings linkid="150146″ count="25″ showlargerphotos="true"]