Mortgage and Real Estate Fraud
Certainly, most people involved in the business of real estate are honest and hard-working but, as in any business, or enterprise if you will, there are "bad apples." And, when times are tough, and economic hardships prevail, bad apples proliferate.
Fraudulent real estate practices are nothing new, of course, but in the last few years, unsuspecting people are being victimized in unprecedented numbers, directly as a result of the housing crisis we are now experiencing.
There are "vultures" in every walk of life that prey upon the misfortunes of others, and when people are in a difficult situation they will often turn to anyone who offers a ray of hope.
Famed bank robber Willie Sutton was once asked why he robbed banks, and his answer was, "because that's where the money is!" So it is with the robbers who commit real estate and mortgage fraud.
Mortgage and real estate fraud are multi-million dollar enterprises, and since there is much less of a chance to be shot at, mortgage and real estate fraud is a lot less risky than bank robbing.
Real estate scam artists often focus on desperate people who are facing foreclosure, and don't know where to turn for legitimate help. The scam artist will try to convince the property owner that the only way to save the home is to deed it to another person -on a temporary basis. The intent, of course, is to steal the property.
Mortgage fraud, as opposed to real estate fraud -even though there isn't really much of a difference- involves the misrepresentation of information. For example, the use of false appraisals which are designed to fraudulently increase property values, falsifying loan applications and the like.
False documentation and identity theft are often part of a real estate scammer's methods of operation as well. Delays in the processing of deeds and other relevant documentation often give these thieves the opportunity to actually sell a single property a number of times before the paperwork on the original sale has been recorded.
Scammer's recruit unethical notaries who conveniently "overlook" the verification of signatures, and allow blank spaces on documents that can be filled in by the scammer at a later date.
To qualify for a mortgage loan, other types of fraudulent practices often employ such schemes as falsifying assets by disguising rental property as owned property, counterfeit pay stubs, and adding their names to the credit cards of accomplices with excellent credit in order to increase credit scores.
There are countless variations of real estate and mortgage fraud scams, and they all pose a serious threat to the functioning and integrity of the real estate industry as a whole, as well as to individuals who are honest buyers, sellers, and investors.
If you or someone you know has been victimized by a fraudulent real estate scheme, you should contact the FBI and/or the HUD Inspector General.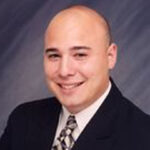 Tony Sena is broker/owner of Shelter Realty in Las Vegas Nevada. For more than a decade Tony and his partners have provided residential real estate and property management services to sellers, buyers, investors, and property owners in the Las Vegas Valley. A Las Vegas native and former police officer for the City of Henderson, Tony brings to the table a unique local perspective that continues to serve his clients well.