Mortgage Fraud Charges Filed Against Las Vegas Woman
Nevada's U.S. Attorney Daniel Bogden announced today the federal grand jury in Las Vegas indicted five people on mortgage fraud charges.  All five individuals were charged with conspiracy to commit bank fraud, mail fraud, wire fraud, (6) counts of bank fraud and criminal forfeiture.  Suzanne McAllister, an assistant escrow officer and notary at Lawyers Title, was one of the five indicted.
According to the Las Vegas Sun, The indictment lists 28 real property sales transactions involving 21 homes sold in Las Vegas between Aug. 25, 2005, and April 18, 2007. Seven of the homes were "flipped" or sold twice within short periods of time. A majority of the homes sold for more than $700,000, and the total value of the mortgages for the 28 transactions was $18.9 million.
If convicted, the defendants could face up to 30 years in prison and a $1 million fine on each count, and may be required to forfeit up to about $4.2 million.
The Southern Nevada Mortgage Fraud Task Force and U.S. Postal Investigation Service is handling the investigation.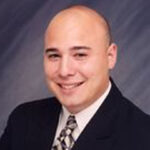 Tony Sena is broker/owner of Shelter Realty in Las Vegas Nevada. For more than a decade Tony and his partners have provided residential real estate and property management services to sellers, buyers, investors, and property owners in the Las Vegas Valley. A Las Vegas native and former police officer for the City of Henderson, Tony brings to the table a unique local perspective that continues to serve his clients well.