Snow Day in Las Vegas?
Today has been a strange day as it has pretty much snowed for about 8 hours straight in the Henderson area.  I measured over 5 inches of snow that accumulated on a table in my backyard and in some parts of Henderson they were reporting 10 inches.  The snow has made for some major traffic problems in the Henderson area.  Numerous roads leading out of Las Vegas to Pahrump and California have been closed due to the road conditions the snow has caused.  It's expected to get worse as the temperature is expected to drop to 29 degrees causing the slush on the road to freeze making it a nightmare to drive on in the morning.
For the first time in almost 30 years the Clark County School District will be closing school tomorrow calling it a Snow Day!  Can you believe that, a snow day in Las Vegas!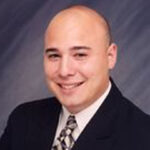 Tony Sena is broker/owner of Shelter Realty in Las Vegas Nevada. For more than a decade Tony and his partners have provided residential real estate and property management services to sellers, buyers, investors, and property owners in the Las Vegas Valley. A Las Vegas native and former police officer for the City of Henderson, Tony brings to the table a unique local perspective that continues to serve his clients well.