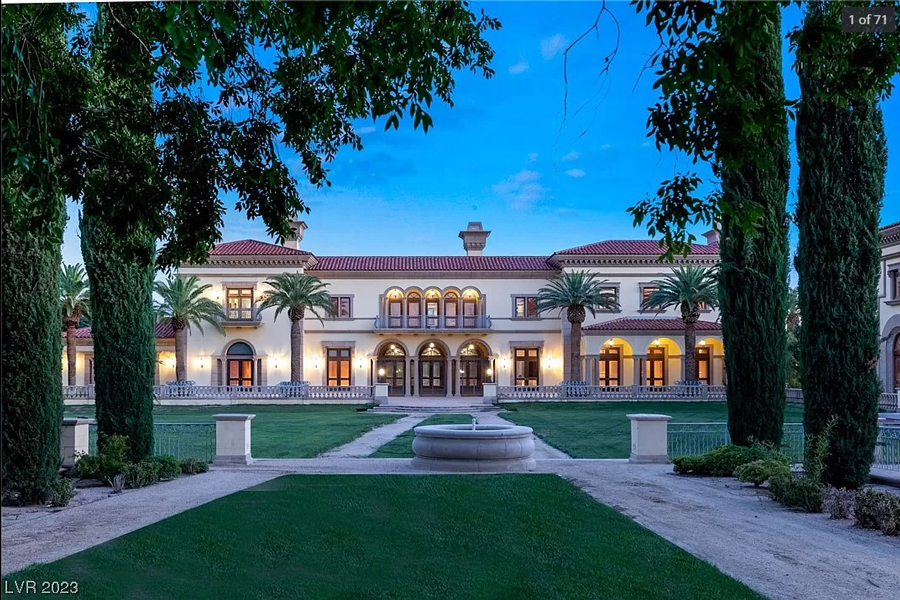 Las Vegas Compound, Previously Occupied by Michael Jackson and Prince of Brunei, on Market for $25 Million
LAS VEGAS, NV – A massive compound located in Las Vegas' affluent Spanish Trail community that was previously owned by the Prince of Brunei – and at one time occupied by late pop singer Michael Jackson – has been listed on the market for a whopping $25 million.
The compound, coming in at over 110,000-square-feet and located on a 16-acre plot of land, is located at 99 Spanish Gate Drive and at one time was linked to Jefri Bolkiah, the prince of the tiny Asian country of Brunei. Reports also indicate that in 2007 Michael Jackson had moved into Bolkiah's compound and stayed there for some time.
Construction of the property – referred to as "an unfinished masterpiece" by its principal broker, Ivan Sher – began in 1996, and is approximately 90 percent complete; there has been no additional development of the compound since 1999, Sher said.
The home is completely enclosed and finished, but what's not included is appliances and some detailed finish work isn't complete, but for the most part it's a mostly completed home," he said. "When they built it, they had different expectations about moving to Las Vegas and ultimately ended up not moving."
99 SPANISH GATE DRIVE, LAS VEGAS – $25,000,000.00
Sher has not named the current owners of the property, noting that he has not dealt with them directly and instead has been conducting business through their lawyers and financial advisors; the reason the property has been put on the market is unknown, he said. 
The 110,320-square-foot compound has 10 interconnecting buildings, with the main house coming in at 37,466-square-feet with five bedrooms and eight baths. There's also a 47,367-square-foot athletic club/pool house with an indoor badminton and squash courts, a hotel-sized spa and gym, indoor pool, bowling alley and nightclub.  
See full listing details for 99 Spanish Gate Dr, Las Vegas
Shelter Realty is a Real Estate and Property Management Company specializing in the areas of Henderson, Las Vegas and North Las Vegas, NV. Feel free to give us a call at 702.376.7379 so we can answer any questions you may have.