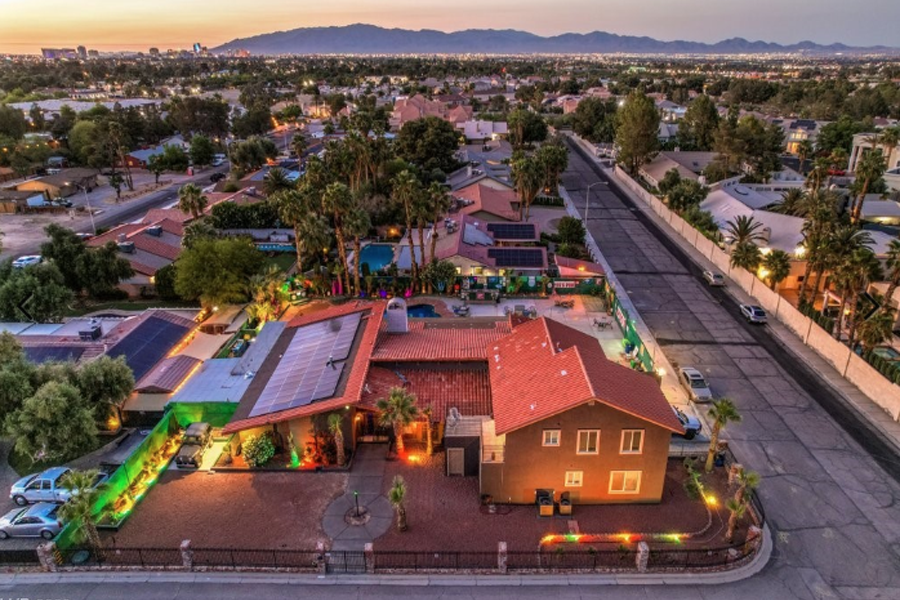 Football Fanatic Lists Las Vegas Home Filled with 2,000 Helmets for $1.15 Million 
LAS VEGAS, NV – An avid football fanatic has listed his Las Vegas home on the open market – after having lived there for 23 years – for $1.15 million, and one only need look inside to realize the depths of his esteem for the game, as his home is filled to nearly bursting with a mind-blowing 2,000 collegiate team helmets.
In fact, that's why Pug Winkler, 77, is finally looking to move out of the 2590 East Viking Road residence, as his collection – one of the world's largest – has simply outgrown its 6,000 square-feet of space. And while the helmets – which are prominently mounted and displayed on the walls of practically every room of the house, even the kitchen and bathrooms – are not included in his current asking price, he noted that they can be included for the right amount of money.
Obviously there's a price for everything, but I would never break them up and sell them individually," Winkler said.
Winkler, originally hailing from Brooklyn, New York, said he's been collecting football helmets for 50 years; unmarried, he said he had the luxury of not being forced to confine his hobby simply to a man cave or side office, but instead was able to spread it out to encompass the entirety of his home.
2590 EAST VIKING ROAD, LAS VEGAS – $1,150,000.00
I have no wife to answer to, and if I did, and she said no, she wouldn't be my wife anymore," he said, who never actually played football himself in college but "loves watching the kids play."
Winkler began acquiring his helmets after selling a previous substantial collection of sports memorabilia; proceeds from that sale were large enough that he was able to retire, build his home, and go on numerous trips around the world.
The property for sale consists of two houses – the main and an attached guesthouse – with Winkler's collection spread out amongst the two of them. The main house comes in at 3,770 square feet and has four bedrooms and three bathrooms; the master bedroom boasts numerous amenities, including a jacuzzi, a sauna, and two walk-in closets, where he stores his collection of 150 football uniforms.
Meanwhile, the guesthouse is 2,169-square-feet in size with four bedrooms and three bathrooms and can bring in as much as $4,800 per month in rent.
Upon making the sale, Winkler said he plans on moving to Arizona.
See full listing details for 2590 East Viking Road, Las Vegas
Shelter Realty is a Real Estate and Property Management Company specializing in the areas of Henderson, Las Vegas and North Las Vegas, NV. Feel free to give us a call at 702.376.7379 so we can answer any questions you may have.