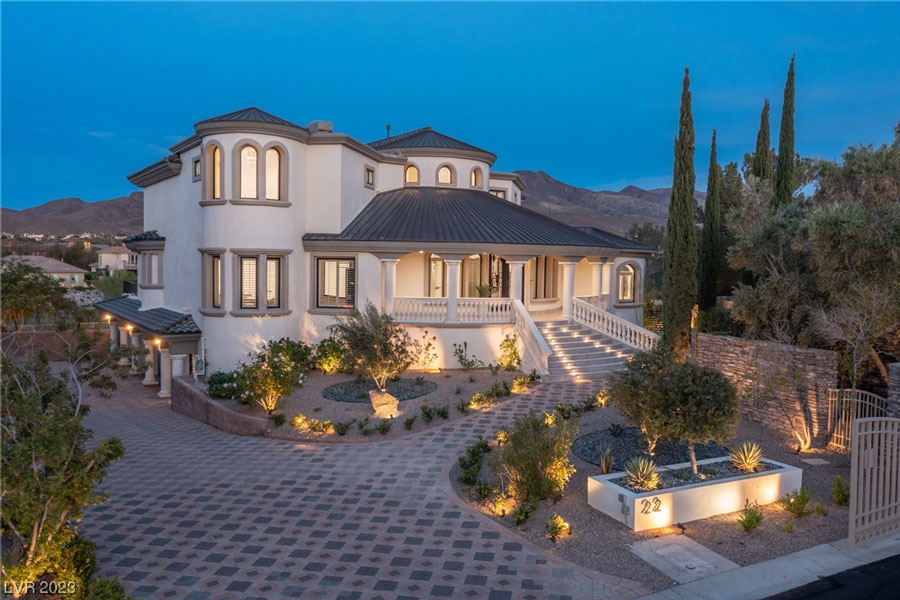 Henderson Mansion Listed for $4.8 Million, Comes with Free Ferrari, Estimated Worth $100,000+
LAS VEGAS, NV – What's the point in buying yourself a swanky new mansion in a high-end Las Vegas neighborhood if you don't have a fancy sports car to park in front of it? That's the marketing approach that one seller is taking, offering a free Ferrari along with the $4.8 million Henderson mansion he's selling if the buyer in question meets or exceeds the residence's listed price.
Realtor Jordan Betten said that offering the fancy Italian sports car as an added bonus is an experiment; if successful, it's something that he plans on expanding upon with his future luxury real estate offerings.
This is definitely a thinking-outside-of-the-box approach towards selling Las Vegas luxury homes," he said. "If this marketing technique is successful, we plan on including a Lamborghini with our next luxury listing coming up in MacDonald Highlands for $7 million."
The estate up for grabs is located at 22 Anthem Pointe Court, comes in at an impressive 8,414 square-feet in size, and boasts seven bedrooms and eight bathrooms. It also features a number of lush amenities, including a movie theater, climate-controlled wine cellar, outdoor pergola, sports bar, steam room, and a secret hidden library.
22 ANTHEM POINTE COURT, HENDERSON – $4,800,000.00
The seller of the house also owns the Ferrari that is being offered, which is a 2010 California model with low mileage that is estimated to be worth anywhere between $100,000 and $115,000. This is certainly an enticing bonus item, and the idea for its inclusion in the sale was inspired by a question from a prospective buyer during an early showing of the residence, according to Betten.
They asked when they saw the owner's Ferrari parked in the garage, 'Does the car come with the house?' My response was, 'Give us a cash offer at list price or higher, and we will get you the Ferrari included.'" he said. "We decided that even though the luxury market has been competitive with low inventory for buyers, especially for modernized and remodeled homes, why not add some icing on the cake to make our listing stand out?"
See full listing details for 22 Anthem Pointe Ct, Henderson
Shelter Realty is a Real Estate and Property Management Company specializing in the areas of Henderson, Las Vegas and North Las Vegas, NV. Feel free to give us a call at 702.376.7379 so we can answer any questions you may have.