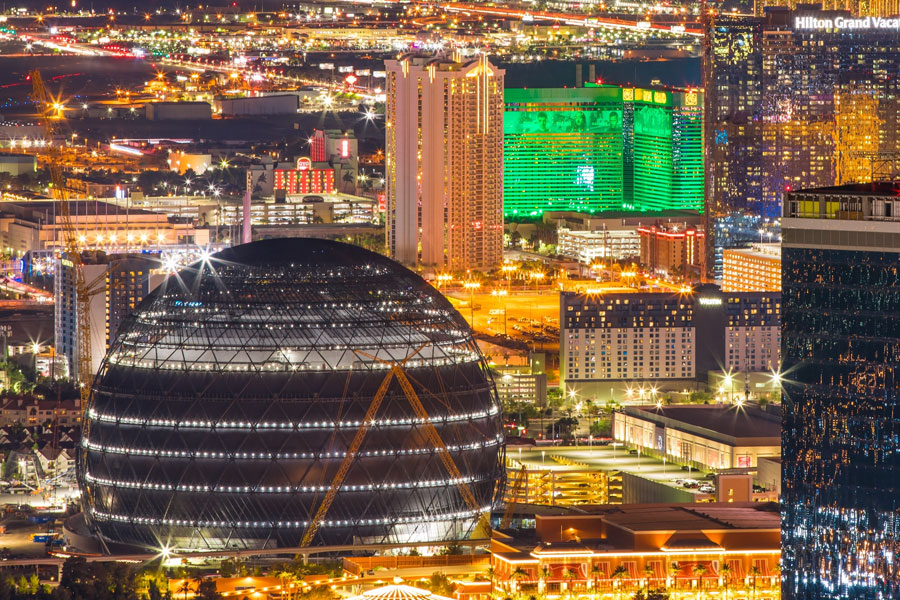 Las Vegas Construction Companies Claim They're Owed Millions for MSG Sphere Work
LAS VEGAS, NV – Construction companies that have been working on the MSG Sphere in Las Vegas claim the company behind the futuristic entertainment venue – which is still under development – owes them millions of dollars in unpaid labor fees, according to a lawsuit filed with the Eighth Judicial District Court of Nevada.
MSG Las Vegas and Platte River Insurance Company of Nebraska are named as defendants in the lawsuit, which has been filed by plaintiffs comprised of Rider Levett Bucknall LTD and 20 unnamed individuals or business entities.
The plaintiffs allege that they had provided construction services for the MGS Sphere valued at approximately $3 million, and that $2 million of that outstanding balance has yet to be paid to them; eventually, they placed a lien against MSG.
Lawyers representing the plaintiffs blame the lack of payment for their clients on James Dolan, CEO of MSG.
There was supposed to be the world's longest bar in this project," the attorneys said to the judge overseeing the case. "And they built it and then he came through and deleted it and wanted to take it out. He increased the project cost. Mr. Dolan's decision against advice increased the project cost and now he's blaming us for increasing the project costs."
A Sphere Entertainment spokesperson said, "This story has no merit."
When completed, the MSG Sphere will be a 400,000-square-foot, 18,000-seat, 366-foot-tall, 516 foot wide, globe-shaped arena – the largest spherical structure on Earth, according to MSG – located on 63 acres of property located behind the behind the Venetian Resort Hotel Casino on the Las Vegas Strip.
The exterior of the sphere will feature 36 miles of variable intensity LED lighting – the aforementioned exosphere – enabling the structure to allow outside spectators to peer through a transparent façade to watch the concert within; at higher lighting intensities, outside vision will be obscured.
The attendee capacity of the MSG Sphere will be scalable, MSG Entertainment said, ranging from approximately 17,500 seated to 20,000 with a mix of seated and standing. The venue will typically not feature sporting events, but rather cater to musical performances and concerts; however, the occasional boxing or MMA contest could be held there if needed.
Shelter Realty is a Real Estate and Property Management Company specializing in the areas of Henderson, Las Vegas and North Las Vegas, NV. Feel free to give us a call at 702.376.7379 so we can answer any questions you may have.