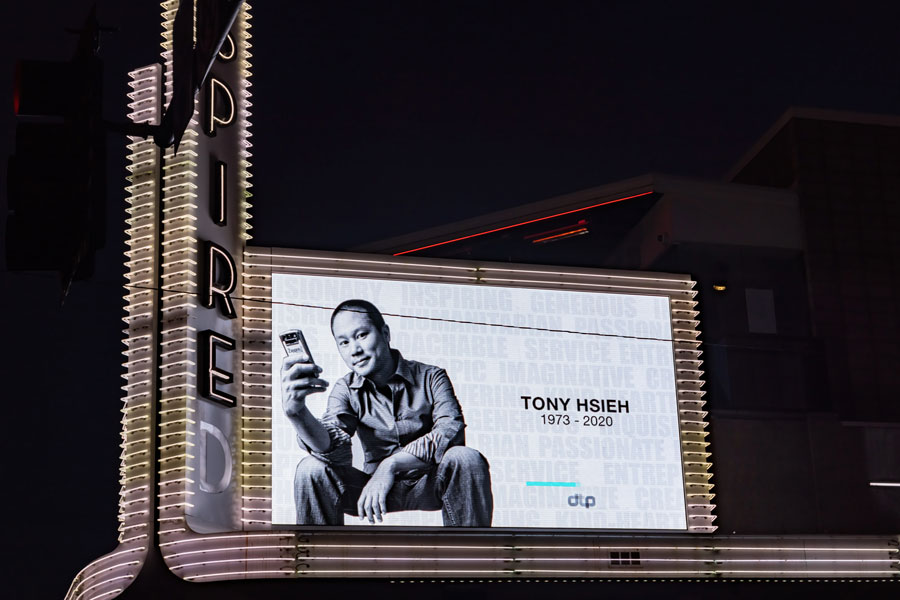 Firm Selected to Sell Five Downtown Las Vegas Properties Owned by Late Tony Hsieh's Estate
LAS VEGAS, NV – A real estate brokerage firm, Logic Commercial Real Estate, has been selected to sell five downtown Las Vegas properties that are owned by the estate of late Zappos CEO Tony Hsieh.
The five properties that the firm will be attempting to find buyers for include The Downtowner boutique hotel; the John E. Carson office and retail building, along with the building's adjacent parking lot; a six-unit retail property at the intersection of Las Vegas Boulevard and Fremont Street; a building on North Fourth Street that is occupied by Mexican-style eatery Nacho Daddy; and the Gold Spike bar and nightlife venue and adjacent Oasis hotel.
Currently, no asking prices for the five properties have been publicly announced by Logic Commercial Real Estate; however, the firm's President, Jeff Jacobs, noted Hsieh's importance over the years to Southern Nevada, and said the utmost care would be taken in selecting the right buyers for his holdings.
"We understand the importance of these properties and the significance of Tony Hsieh's vision for revitalizing downtown Las Vegas," Jacobs said.
Hsieh had passed away in November at the age of 46 due to injuries suffered in a Connecticut house fire, reports say.
For two decades, Hsieh – who was worth hundreds of millions of dollars at the time of his death – headed up retail shoe selling giant Zappos before selling it to Amazon in 2009 for over $1 billion; he later retired as CEO in August 2020. He is also credited for having pledged $350 million to the renovation and revitalization of Downtown Las Vegas.
In February 2021, much of the Las Vegas real estate empire amassed by Hsieh was been listed on the open market by his family, totaling nearly 100 properties throughout the downtown area.
Shelter Realty is a Real Estate and Property Management Company specializing in the areas of Henderson, Las Vegas and North Las Vegas, NV. Feel free to give us a call at 702.376.7379 so we can answer any questions you may have.