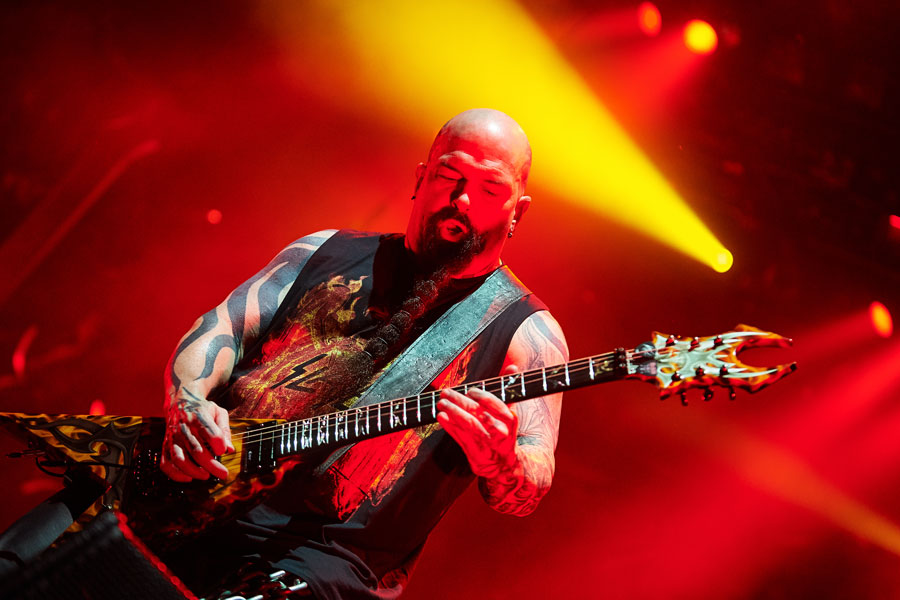 Las Vegas Mansion of Slayer Guitarist Kerry King Hits Market for $4.3 Million
LAS VEGAS, NV – Kerry King, the guitarist for the infamous thrash metal band Slayer, has listed his Las Vegas mansion on the real estate market for $4.3 million. 
The design of King's home may surprise his many fans, with the lavish estate – complete with a clean, ultramodern, and boxy design aesthetic – running in contrast to the reputation Slayer has garnered since forming back in 1981, with the band known for their dark and blistering music and occult overtones.
The Slayer co-founder's onstage appearance also belies his choice in lavish accommodations, with the rocker typically decked out on stage in his signature forearm gauntlet – adorned with rows of large, spikey nails – while belting out his savage guitar licks. 
4195 BADURA AVENUE, LAS VEGAS – $4,299,000.00
King originally purchased the custom-built property brand new for $3,819,000 in 2020; his current asking price is now $4,299,000. The home comes in at a whopping 6,000 square feet and features five bedrooms, seven bathrooms, and a striking contemporary design.
The residence features a floating staircase, floor to ceiling glass walls, wood floors, and clean lines; each room has glass pocket doors that all allow access to the backyard, which has a large pool.
Of course, the home of a rock star would not be complete without numerous luxury amenities, including a deck-based sauna, a wine room, pool house, and an outdoor kitchen with a bar. And for buyers seeking cutting-edge technology, the house also includes smart home automation and numerous solar panels. 
The reason why King has placed the estate on the market is currently unknown.
Slayer disbanded back in November of 2019 after playing their final show in Los Angeles, California; however, King remains active on the music scene, having recently been jamming with a new band that includes former Slayer drummer Paul Bostaph that will begin performing live later in 2023. 
Click here to view full listing details for 4195 Badura Avenue, Las Vegas
Shelter Realty is a Real Estate and Property Management Company specializing in the areas of Henderson, Las Vegas and North Las Vegas, NV. Feel free to give us a call at 702.376.7379 so we can answer any questions you may have.