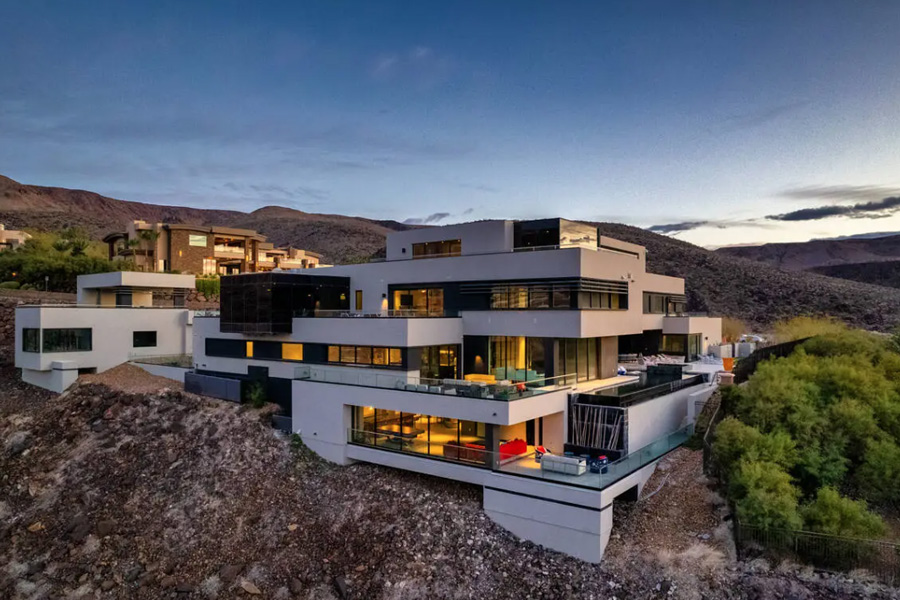 Why Buy A Mansion When You Can Rent One – Henderson Megamansion Available For $100,000 A Month?
HENDERSON, NV – One of the most appealing parts of living or spending time in Las Vegas is the feeling of luxury. While some permanent residents opt to purchase large homes in the area, rental properties can also pack the same iconic Las Vegas glitz and glam. 
For instance, just outside of Las Vegas sits the most expensive rental in the area — a 15,000-square-foot megamansion. The sprawling complex sits on over 2 acres of land in Henderson. 
Along with a great, unobstructed view of the strip, the property also features a stunning look at the surrounding mountains. However, the amenities of the megamansion don't stop there, as the compound also boasts unique features like an 18-car garage and a chef's kitchen with two islands. 
Those looking to enjoy the great outdoors can do so by taking a dip in the property's 50-foot-long edgeless pool. Once finished soaking, the spa is the perfect relaxation spot before heading inside.
Potential tenants who love to entertain will be happy to hear the mansion has a rooftop party deck with beautiful views of the area, especially at night when the strip shines the brightest. The deck area also features a pizza oven and a barbeque area for grilling. 
The inside of the home has room for multiple family members with access to seven bedrooms and 11 bathrooms. Families with kids and teenagers will notice many fun areas of the house for everyone to enjoy including:
Bowling alley
Movie theater room
Indoor basketball court
Wet bars and wine closets with wine or soda on tap
If you and your family are looking for a dream house that embodies Las Vegas, this megamansion is a great place to visit. 
Shelter Realty is a Real Estate and Property Management Company specializing in the areas of Henderson, Las Vegas and North Las Vegas, NV. Feel free to give us a call at 702.376.7379 so we can answer any questions you may have.