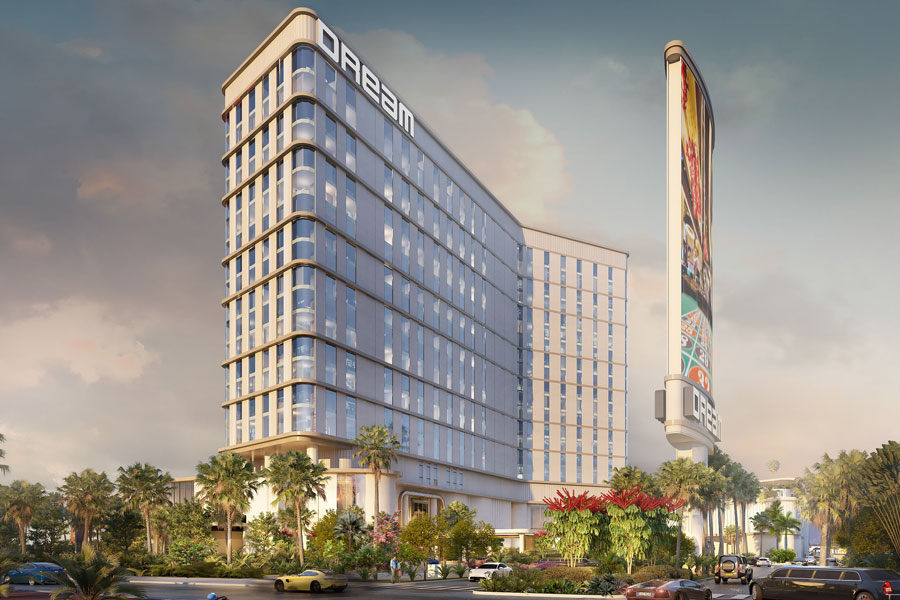 Construction of "Dream Las Vegas" Hotel-Casino Halts as Funding Temporarily Dries Up
LAS VEGAS, NV – Construction of the greatly anticipated Dream Las Vegas hotel-casino project has been "fully stopped" after developer Bill Shopoff revealed this week that his funding has temporarily dried up, leaving him owing approximately $25 million to $30 million for work on the resort.
Despite the whopping debt he owes currently, Shopoff – President and CEO of Shopoff Realty Investments – is insisting that the project is only briefly halted, and that work will resume "once the terms of the financing are finalized."
Work has fully stopped at the site, other than anything required for safety," Shopoff said.
Construction on Dream Las Vegas broke ground on Las Vegas Boulevard last year and is slated to take a different approach from the massive mega-resorts that the city is known for, offering a "smaller, boutique-style experience."
Shopoff – along with his partner in the project, Contour CEO David Daneshforooz – said that he is in "active" discussions with his lender, and that he anticipates the kinks in his funding to be worked out within the next month or so.
"Clearly, we're delayed on getting some financing," he said, explaining that some of the issues regarding Dream's funding are tied to skyrocketing loan interest rates caused by the record-high inflation plaguing the country.
Currently, the budget for Dream is in the neighborhood of $550 million to $575 million; until now, Shopoff and Daneshforooz have been paying for its development with cash out of their own pockets, and are currently negotiating with their lender for a $400 million plus loan.
Development for Dream is being spearheaded by contractor McCarthy Building Companies, whom Shopoff insisted will be paid and will continue work on finishing the 531-room hotel-casino.
Obviously people want to get paid for their work, and we want them to be paid," Shopoff said. "They will be paid, and the project will get built."
Shelter Realty is a Real Estate and Property Management Company specializing in the areas of Henderson, Las Vegas and North Las Vegas, NV. Feel free to give us a call at 702.376.7379 so we can answer any questions you may have.