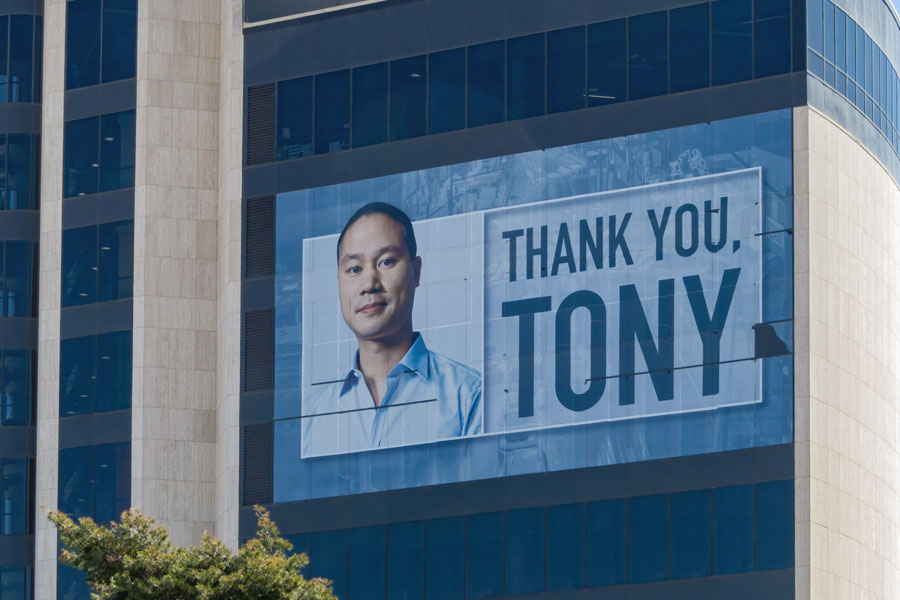 Sale of Late Zappos CEO Tony Hsieh's Las Vegas Apartment Deemed Fraudulent by Judge
LAS VEGAS, NV – The sale of the former apartment complex of late entrepreneur and Zappos CEO Tony Hsieh has been deemed fraudulent by a Las Vegas judge since his estate never approved of the transaction, leaving the buyer in a state of limbo in regards to the rights to their purchase.
Much of the Las Vegas real estate empire amassed by Hsieh has been listed on the open market by his family, totaling nearly 100 properties throughout the downtown Las Vegas area. Hsieh had passed away in November 2021 at the age of 46 due to injuries suffered in a Connecticut house fire, and had no will before his death, reports say.
The apartment complex in question, known as Cassia – which Hsieh purchased in 2012 – is located at 319 South Ninth Street, and was purportedly sold in March for $1.2 million by an individual named Santiago Espinosa, who claimed to be a managing member of Hsieh's limited liability company that owned the property.
However, attorneys representing Hsieh's estate were not informed of the sale until May, at which point they stated they had never heard of anyone named "Santiago Espinosa." District Judge Gloria Sturman subsequently ruled that the sale of Cassia was "clearly fraudulent" and ordered that the deed be immediately returned to Hsieh's estate.
While the whereabouts of the individual claiming to be Santiago Espinosa are currently known to authorities, the same cannot be said regarding the person who notarized the fraudulent sale, reports say. A source close to the situation alleges that the attempted sale of Cassia was part of a large-scale attempt to rip off real estate buyers across the Las Vegas valley.
The apartment complex had been sold to Galaxy Home Buyers LLC – managed by realtor Sarah Sorrells – and that the reversal of the sale by the judge resulted in the firm taking a $1.2 million loss that they have no choice but to accept.
Shelter Realty is a Real Estate and Property Management Company specializing in the areas of Henderson, Las Vegas and North Las Vegas, NV. Feel free to give us a call at 702.376.7379 so we can answer any questions you may have.