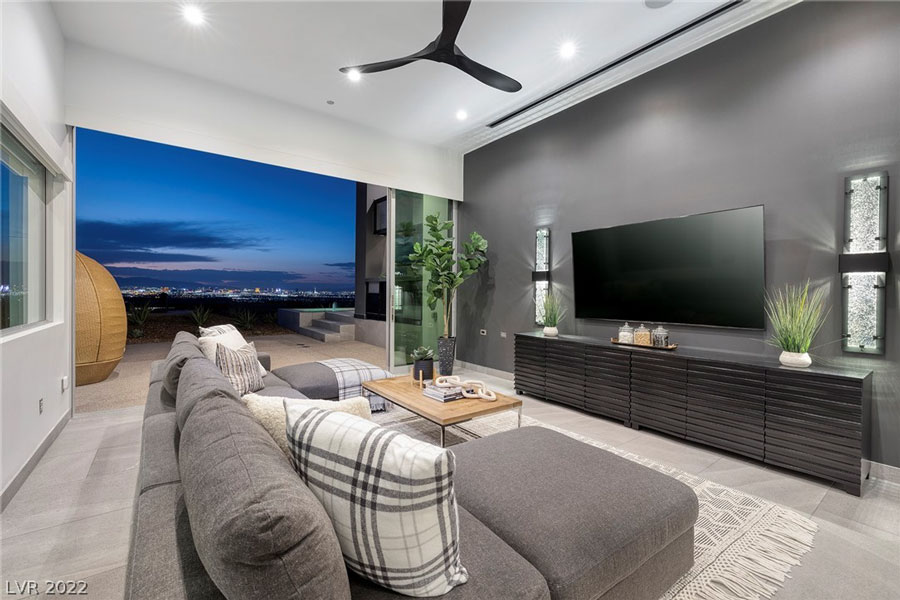 Las Vegas Luxury Home Purchased and Extensively Renovated on Market for Over $5 Million
LAS VEGAS, NV – A "fix and flip" luxury residence located on Boulderback Drive in Las Vegas that was purchased and extensively renovated has now been listed on the open market for a whopping $5.895 million.
Shelly Kramarczuk, principal and owner of SK Design, first noted the home earlier in 2022, and after purchasing the single-story, four-bedroom, 4,832 square-foot property, oversaw a complete transformation of its interior.
Many of the changes in the home made extensive use of Neolith, a type of sintered stone made from three types of natural materials: Glass, Porcelain, and Quartz. The stone puts together the best features of these raw materials, creating a stone that is highly durable, waterproof, scratch resistant, and resistant to UV rays.
1 BOULDERBACK DRIVE, HENDERSON – $5,895,000.00
An entire wall in the home's great room is completely made up of Neolith, Kramarczuk noted, and influenced her decision to make it a common design motif throughout.
"It transformed the entire feeling of the home. I am in love with the Neolith product line. It's so rich in its look and appeal," she said. "I immediately saw it in my mind when I first entered the home. I had a vision of re-slabbing it to transform the feeling of the home, so that is where I started."
The great room Neolith wall features a 98-inch television with an integrated sound system and a 100-inch Dimplex fireplace – with the components are built into an AV media wall box behind the television – all of which have been incorporated seamlessly into the structure.
Kramarczuk added a number of other elegant design aspects into the home over the course of its 5-month renovation process, including a $70,000 custom Bocci chandelier hanging over the formal dining table, floor-to-ceiling glass throughout much of the residence, dual contrasting waterfall islands with quartz countertops in the kitchen, and much more, creating what Kramarczuk referred to as a "timeless, organic-modern aesthetic."
"Boulderback is a special property," she said. "The floor plan is functional, with four bedrooms and flex rooms that can be customized to the buyer's interests and needs."
Shelter Realty is a Real Estate and Property Management Company specializing in the areas of Henderson, Las Vegas and North Las Vegas, NV. Feel free to give us a call at 702.376.7379 so we can answer any questions you may have.