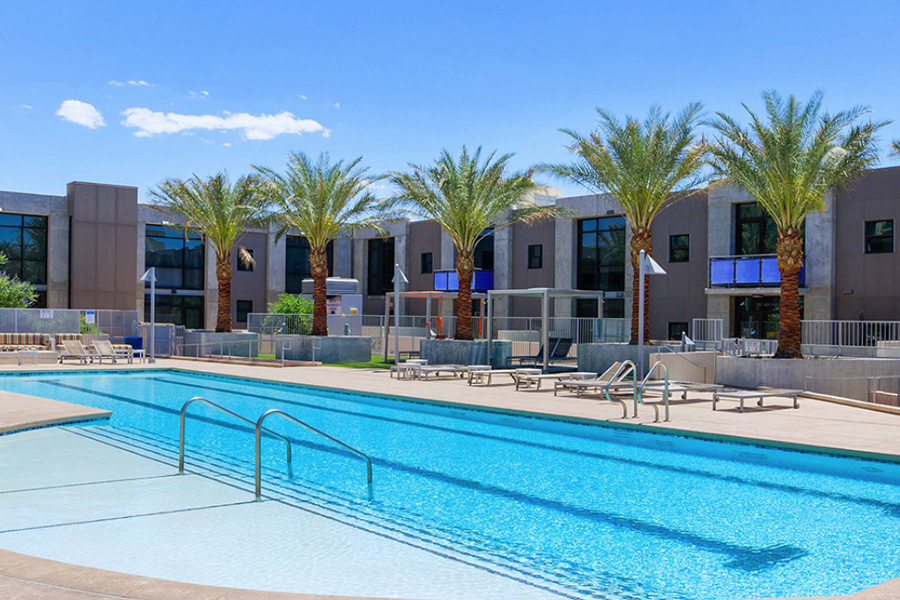 Juhl in Downtown Las Vegas Offers Unique Combo Live/Work Condominiums; Offering $25,000 Tenant Improvement Credit
LAS VEGAS, NV – For entrepreneurs seeking an integration of their life and work experience into a single flexible space, Juhl, located in downtown Las Vegas, offers the unique combination of a luxury condominium with office, commercial or retail space that's sure to appeal to go-getters looking to establish their brand while living where they work.
Juhl provides tenants with two-story live-work condominiums that provide visible street-level space for business, combined with separate, private second-floor living space that allows a seamless blending of living and working environments. The live-work condos range in size from 1,359 square feet to 1,993 square feet and cost in the range of $550,000 to $650,000, with building management offering a $25,000 tenant improvement credit to help the tenant to customize their space.
The block-sized Juhl, located on Bonneville Avenue, is the only mixed-use development in Las Vegas' downtown area, and has a wide variety of businesses occupying its street-level business sections, from restaurants to retail establishments. All Juhl units are zoned for commercial use and include access to a private parking lot as well as ample street parking for customers and clients of its tenants.
The actual commercial units themselves are spacious and can be easily customized, with high ceilings, floor-to-ceiling windows, concrete flooring, a rear entrance, and a half-bath. And as for the second story living space, Juhl's tenants have access to a one-bedroom, one-bath unit with a private entrance, balcony, and a contemporary kitchen with stainless steel appliances and granite countertops.
Juhl tenants also have access to a variety of amenities, including a two-story fitness center, a resort pool, dedicated concierge, 24-hour security, summer kitchens and grilling stations, movie theater, a Vino Deck, private pet walk and electric car charging stations.
For anyone interested in starting their own business and enjoying a conveniently-located space to call home in order to create a healthy life/work dynamic, Juhl offers a unique and dynamic way to achieve this goal.
For more information visit https://www.juhllv.com call (702) 816-5466.
Shelter Realty is a Real Estate and Property Management Company specializing in the areas of Henderson, Las Vegas and North Las Vegas, NV. Feel free to give us a call at 702.376.7379 so we can answer any questions you may have.