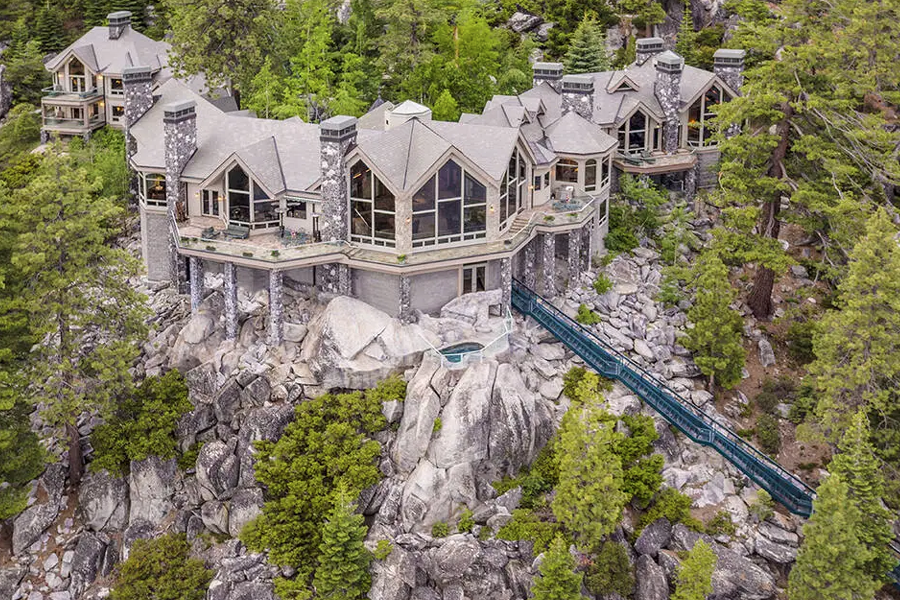 Lavish 16,000+ Square-Foot Lake Tahoe Estate Hits Market for Whopping $64.5 Million
LAS VEGAS, NV – Crystal Pointe Estate – a massive, lavish abode overlooking Lake Tahoe's Crystal Bay – has been listed on the Nevada real estate marketplace, with the sellers hoping to fetch a massive payday of $64.5 million when or if it sells.
Crystal Pointe Estate, located at 300 Highway 28 in Crystal Bay, is an astounding feat of architecture. The home is a custom, private-gated estate consisting of a huge, 16,232 square-foot main residence, adjoining guest wing, detached garage pavilion and a 3,600 square-foot beach house, all interconnected by two hillside funicular trams enclosed in glass.
The asking price, if met, is record-breaking for the region; the previous record-holder is $56 million for the purchase of the Whittell Estate – including the historic Thunderbird Lodge – that took place back in 1998 by the Del Webb Corporation.
Crystal Pointe Estate was originally the brainchild of Stuart and Geri Yount, a couple who painstakingly designed every aspect of it from the ground-up. After buying the property it stands upon in 1994, the development of the main residence alone took five years; due to permit issues, the beach house took an additional 10 years to finish, having been completed in 2016.
The estate is comprised of 5.1 private acres that includes 525 feet of lakefront with a terraced beach, four buoys and a pier. The house itself has eight bedrooms, 12 baths, formal dining and living rooms, 13 fireplaces, a primary bedroom office with leather door inlays and a Brazilian mahogany library, an old English pub-inspired billiards room with bar, 1,687-bottle wine cellar, game room, movie theater, and caretaker's apartment.
The home also features floor-to-ceiling windows, custom-designed fireplaces, wood vaulted ceilings, grand wood pillars and custom lighting. Throughout the estate intricate detail abounds and no two rooms look the same, with Geri Yount stating that when designing the home, "We went room by room and I insisted nothing be the same anywhere. Everything in the house is unique to its own space."
Upon completion of the home, the couple resided there for the 24 years, only recently deciding to put it up for sale in order to move to be closer to their grandchildren.
Shelter Realty is a Real Estate and Property Management Company specializing in the areas of Henderson, Las Vegas and North Las Vegas, NV. Feel free to give us a call at 702.376.7379 so we can answer any questions you may have.