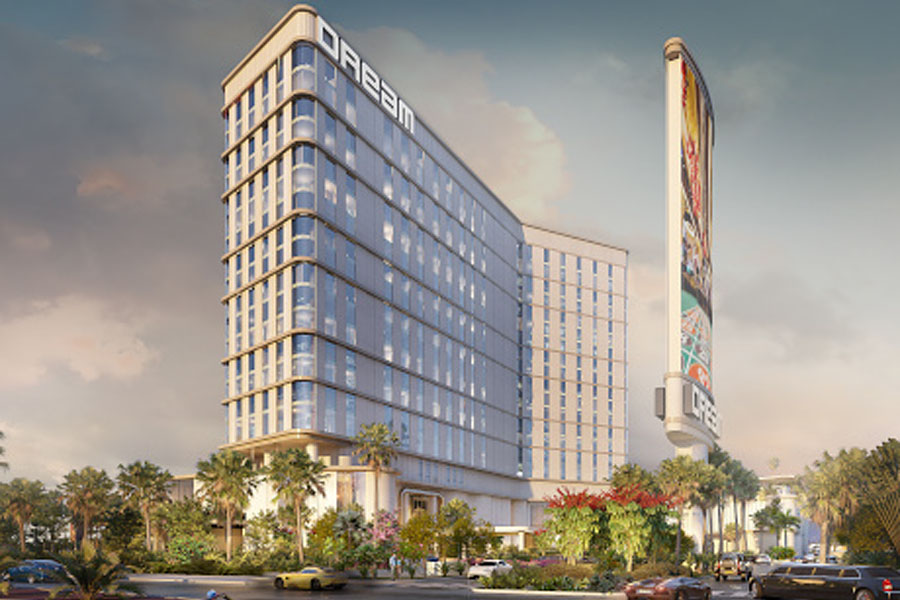 $550 Million "Dream Las Vegas" Luxury Hotel and Casino Breaks Ground for 2024 Opening
LAS VEGAS, NV – Ground was officially broken last Friday on Dream Las Vegas, a swanky new $550 million luxury hotel and casino complex situated upon the southern end of the Las Vegas Strip that is slated to open its doors for business in 2024.
Originally announced in February of 2020, Southern California firms Shopoff Realty Investments and Contour will now begin development in earnest on the 20-story establishment which, when completed, will encompass 531 guestrooms and suites. There will also be numerous amenities for guests, such as a third-level pool deck, a bar and lounge concept on the gaming floor, restaurants, nightlife options, meeting and event space, and more.
The hotel is being built upon a vacant 5.25-acre plot of land located at 5051 South Las Vegas Boulevard that Shopoff and Contour originally purchased for $21 million from Fort Lauderdale-based real estate firm Lily Funds; the property sale closed on February 14, 2020.
However, construction on the project was initially delayed for undisclosed reasons – but presumably due to complications from the COVID-19 pandemic – based on a quote from Shopoff Realty Investments' President and CEO William Shopoff when the project was first announced.
"We anticipate breaking ground late this year, probably more likely early next year," he said back in 2020.
The hotel will be managed by New York-based Dream Hotel Group, according to Dream Hotel Group CEO Jay Stein, and said that Dream would present a unique destination for inhabitants and visitors to Las Vegas when it opens in 2024.
"When open, Dream Las Vegas will be unlike anything else currently available on the Las Vegas Strip, offering a new go-to destination for locals and out-of-town pleasure seekers alike," he said.
Shelter Realty is a Real Estate and Property Management Company specializing in the areas of Henderson, Las Vegas and North Las Vegas, NV. Feel free to give us a call at 702.376.7379 so we can answer any questions you may have.