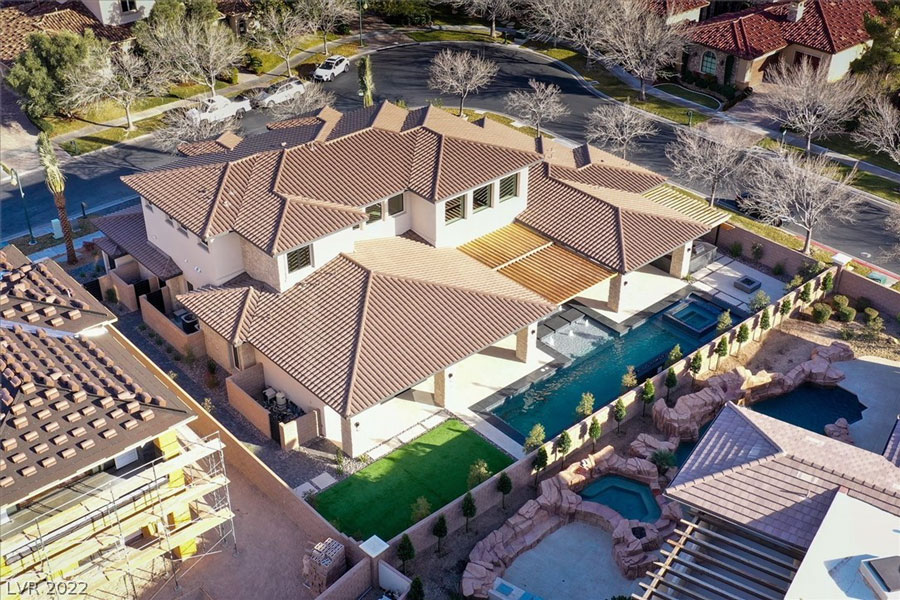 Las Vegas Developer Lists Southern Highlands Golf Club Spec Home for $5.29 Million, Includes $100,000 Tesla
LAS VEGAS, NV – A Las Vegas developer has listed a swanky new spec home built on the grounds of the Southern Highlands Golf Club for the whopping sum of $5.29 million, and to sweeten the deal they're throwing in a $100,000 Tesla to help fill out the dwelling's spacious four-car garage.
A spec house – short for speculative house – is a new house that a home developer builds on the speculation that it will sell easily for a profit. Builders design these move-in-ready homes to be as appealing to home buyers as possible.
That being said, Domanico Developers – the builders of the new Southern Highlands Golf Club listing – certainly gave it their all when attempting to offer an appealing home. Located at 15 Fire Rock Court in a guard-gated enclave, the home comes in at two stories and boasts a contemporary design.
The home uses stone on its exterior, and a huge double-height great room boasts vaulted ceilings and a humongous fireplace mantle. There are two master bedrooms on each wing of the lower level, each with a spa-steam shower, walk-in closet, a washer and dryer, and a private trellis-covered courtyard. Next to the great room is a game room that can be used as a theater.
15 FIRE ROCK COURT, LAS VEGAS – $5,290,000.00
The backyard has a swimming pool, barbecue area, a fire pit and serving bar.
According to the realtor representing the developer, in addition to the $100,000 Tesla, another move to sweeten the deal for prospective buyers includes a $100,000 allowance for furniture as well; the home comes with furniture from Staged To Sell which can be purchased by the buyer, if they so choose.
And if the buyer already happens to own a Tesla, they can instead receive a discount on the sale if they prefer, according to listing agent Ernie Domanico, Jr, who noted that the impressive incentives included in the same are part of a creative marketing strategy.
"If the buyers already have a Tesla, we can just credit them $100,000 and they can do whatever they want with it," Domanico said. "We are trying to do something new to grab people's attention. Electric cars are a big thing and everyone that goes with electric cars seems to be going toward a Tesla."