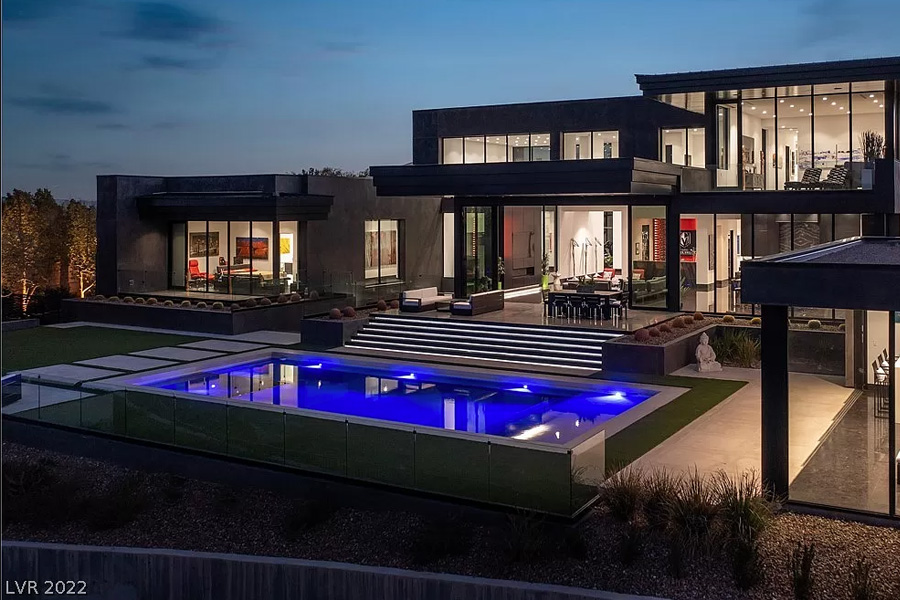 Number of March $1 Million-Plus Luxury Homes Sales in Las Vegas Sets All-Time Record
LAS VEGAS, NV – With the luxury home market in Las Vegas going strong and showing no signs of slowing down as affluent residents from neighboring states continue to transplant themselves into the region, the number of $1 million and higher homes sales in Southern Nevada in the month of March has set an all-time record.
According to reports, there were an incredible 196 homes in Las Vegas with an asking price of $1 million and higher sold in March, with the priciest being a residence in Summerlin that sold for $11.4 million and featured a $35,000 tub in its master bedroom.
The buyer of the expensive Summerlin home – located at 44 Hawk Ridge Drive, – has chosen to remain anonymous, driving a great deal of speculation about their identity. Construction of the residence commenced in 2018 and lasted until 2021, at which time it was listed on the market for $11.9 million, eventually closing for $11.4 million according to property records from Clark County.
The two-story home features an eight-car air-conditioned garage, swimming pool and the aforementioned $35,000 tub in the master bedroom. The home measures 10,609 square feet with four bedrooms and five-and-half baths.
No buyer's agent was used, and the mysterious buyer utilized an out-of-state attorney for the transaction.
The home was previously owned by former Red Rock Resorts president Richard Haskins, who had passed away after a July 4, 2020 water accident in Michigan; Mike and Linda Huhn then bought the residence, which was still approximately 75 percent into its construction, and sank an additional $2 million into its completion before listing it.
At one point there was speculation that the buyer of the property was then-NFL Green Bay Packers wide receiver Davante Adams, who was said to be buying a home in Summerlin after being traded to the Las Vegas Raiders. However, in a local interview, Mike Huhn said that he was unaware of who had purchased his home, and could only say that the attorney representing them was located in New York.
"It would be pretty cool if [Adams] did buy it," Huhn said. "Whoever moved in, moved in a week after we left. We're still curious and, hopefully, we'll find out sooner than later."
Shelter Realty is a Real Estate and Property Management Company specializing in the areas of Henderson, Las Vegas and North Las Vegas, NV. Feel free to give us a call at 702.376.7379 so we can answer any questions you may have.